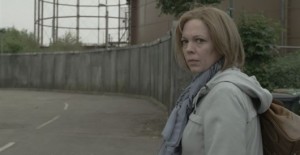 London Road should never have worked on stage. It really shouldn't work on screen. It's a musical about a horrible news story – a series of murders of prostitutes in eastern England committed by Steve Wright, who was convicted in 2006. The writer Alecky Blythe, who has developed a morally telling form of verbatim theatre that preserves her interviewees' vocal quirks and stumbles, paired up with composer Adam Cork. Their unlikely musical was directed at the National Theatre by Rufus Norris in 2011 – and now it's a film.
Both pieces are less about the murders than a community in crisis. The residents of London Road, where Wright lived, share in the fear of a killer is at large ('everybody's very very nervous' begins one song), then pick through a cat's cradle of blue and white police tape and a slavering press pack. They cower indoors, watching their own street on the television news. The only upside to the police presence, one homeowner says, is that 'nobody stole our festive wreath this year.' Gradually, the bewildered neighbours forge a communal positivity.
Sliding into song
London Road was startling on stage – verbatim, steeped in authenticity, meeting the unabashed fabrication of musical theatre. On film, the disconnect is, if anything, even sharper. Norris gives the first half the grey pallor of despondent documentary, making the songs even more incongruous.
Characters here slide rather than burst into song. Cork's 'numbers' are quite unlike classic movie songs, in which people sing to share their joy, or amplify their interior life, or because their feelings reach an intensity that mere speech cannot compass. In London Road, emotions are almost subcutaneous, niggling beneath the skin. Remarkably, the hesitations and tics preserved in the dialogue also shape the songs. Platitudes conceal profound anxieties, and a rare complexity of emotion emerges – as when two schoolgirls cross town, gleefully scared, singing 'I could, like, cry,' and immediately giggle. Seeing the original stage production, I felt that it 'returns the complex texture of human life to music theatre.'
Blythe holds onto her process – extracts from her recorded interviews play over the final credits. Looking at my notebook two weeks after the screening, it's not entirely clear which of the lines I copied were spoken or sung. That's only fitting. Many of the cast (like Claire Moore and Rosalie Craig) have musical-theatre cred, but there's a demi-tuneless quality to the voices. They're often barely supported by an orchestra – more tellingly, voices aggregate into a chorale of fear and agitation. Most affecting is Clare Burt's crackle-voiced resident, who eventually moves away from her neighbours. 'They must have sleepless nights,' she sings quietly. 'I know I do.'
Blythe and Norris tweak the structure, making the chronology more strongly linear. The show (like Little Revolution, Blythe's recent play set in the aftermath of the London riots), began with a local meeting about the 'London Road in Bloom' event. This happens late in the film, which opens with a series of interviews during the police manhunt. The grainy visual texture suggests a documentary (we never see a Blythe figure, only Michael Shaeffer's smooth-coiffed tv reporter). The stage Julie seemed a community powerhouse from the beginning; here, her community role creeps up on her, as it does on her daughter (a sullen teen who becomes the eager-beaver photographer at the street party).
Homebody into hooker
The National's 11-strong ensemble played multiple roles: morphing from neighbours to shoppers, from police to press to, briefly, prostitutes. On film, it's one role apiece, adding bigger names to the stalwarts of subsidised theatre. Olivia Coleman (pictured top) takes the pivotal role, Julie, organiser of the garden competition, and Anita Dobson is among her neighbours. Most startling is Tom 'Mad Max' Hardy, stumble-crooning through a cab driver's disconcerting stab at psychological profiling.
Several original cast members relinquish the roles they created – notably, Kate Fleetwood, the first Julie, now playing a prostitute named Vicky. The working women, barely seen on stage, are present from the beginning, almost as a rebuke to the community that would rather they vanished. Norris' travelling camera catches them staring back blankly at roadsides. Three prostitutes listen in the rain to cheers from the church hall as the verdict is announced. Fleetwood's slide from homebody to hooker suggests that community is more permeable, less comfortable than you might imagine.
Nailing down meaning
Stage-to-screen transfers commonly regard their material with exaggerated respect – as if reluctant to reimagine it in cinematic terms. A previous National Theatre adaptation, Nicholas Hytner's film of The History Boys, works best as a record of three-ply performances. Norris, however, has Danny Cohen's camera enhance the unease around this material as it closes in on characters and then dislocatingly draws back. At the beginning, tv broadcasts introduce crime hunt while the camera glides from house to house, residents transfixed by the screen. Later, over reports from the trial, camera wanders through the boarded-up crime scene. Norris doesn't sensationalise, or linger on gore, but leaves space for our queasy reflection.
A theatre is a toybox, but a camera gives control. Norris and his team (again including designer Katrina Lindsay and choreographer Javier De Frutos) can nail down meaning on film. The colour scheme, uncompromisingly schematic, imposes a grey-lit beginning before busting out the florals. Initially, every scene is dunked in the colour of grim: even the Christmas decorations are all in the same glum evergreens. Warm tones enter with the first meeting of the residents, accented with red chairs and coats. (Norris isn't sentimental, however: at the end everyone leaves Nick Holder's organiser to stack all the chairs he painstakingly laid out.)
Winter turns to summer as residents pull together for a celebratory 'London Road in Bloom' competition: pink-glowing lamps appear at home, and as the jury's verdict offers a degree of official closure, we cut to a close up of the profusion of blooms in Julie's hanging baskets. Colman leads a lilting, touchingly hesitant catalogue of posies: 'Begonias, and – petunias, and – um – impatiens and things.' It's as close as the score gets to a breakout number – I've been humming it ever since I saw the stage show.
What makes a community?
Some viewers have expressed unease at the way Wright's victims are marginalised. Blythe avoids representing the dead women and their murderer, because her interest is in what makes a community. A unique external pressure both inspires an unlikely resilience – but also exposes how a community defines itself, closing its face to outsiders. London Road is an acutely political piece for an age in which cultural borders are policed with rigour. Olivia Colman – typically cast for everywoman relatability – disconcertingly confides Julie's lack of sympathy for the dead women. 'They're better off seven feet under,' she says. 'I'd love to shake his [Wright's] hand – say thanks very much for getting rid of them.' It's a quietly shocking moment, one that no amount of petunias can soften. The film's visual language seems more celebratory than I remember from the stage, but a wash of troubled ambiguity remains. In the final scene, bunting crisscrosses the street, replacing the police tape, and Fleetwood's working girl passes through the throng, witness to her own erasure.
Follow David on Twitter: @mrdavidjays