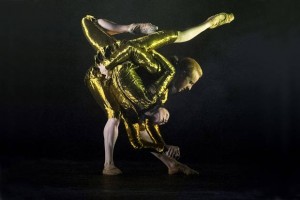 Woolf Works
How do you dance consciousness? The play of thought, memory, imagination? Maybe you find someone who explored how to write thought – to put the process of reflection and remembering, how they scud and deepen and feel, into words. That writer might be Virginia Woolf.
Woolf Works, Wayne McGregor's exceptional new piece – his first full-length for the Royal Ballet, where he is resident choreographer – doesn't 'adapt' a Woolf novel. The three sections are described as 'from', respectively, Mrs Dalloway, Orlando and The Waves, and profoundly informed by Woolf's own biography. They're about thinking and feeling through the body. The central body belongs to Alessandra Ferri, the Royal's former ballerina who left in 1985, and who, in her fifties brings an unusual emotional density to the stage. She moves with a profound gravity, yet can hold herself with a sculpted lightness – the kind of paradox that tugs her Woolfian protagonist.
Woolf's works demand a daring approach to form, which is why the most successful adaptations have wriggled away from realism. Sally Potter's film Orlando (1992), stepping serenely through masque-like scenes; Katie Mitchell's production Waves (2006), a live multimedia assemblage of identity and perception. McGregor doesn't do linear either: Woolf Works, an deeply intelligent triptych, explores how a mind might reflect, play and intuit.
Turning, restless, unstable
Each act has a different designer. The first (I Now, I Then) is French architectural practice Ciguë – three large wooden frames, slowly revolving. Society hostess Clarissa Dalloway, the former soldier Setptimus, Woolf herself: all experience the present through the frame of the past, apprehended memory through the present moment. Those frames, from which Ferri sometimes watches her younger self explore romance, are turning, restless, unstable. (Federico Bonelli, the company's most handsome dancer, is perfectly cast as a former love in this act and a Leonard Woolf figure in the last. He's an unfailingly protective partner, which can feel undramatic – but here, his instinct to support Ferri is immensely touching.)
In the opening section, the frames are often swathed in projected images from the rich, pressing world that Clarissa Dalloway/Woolf navigates. When we see Septimus, the lighting becomes stark, the frames bare. Memory for the shellshocked soldier is an unequivocally desolate state. Edward Watson – in whose collaborations with McGregor each often urges the other to extremity – is at his most tortured here, a stranger in his own skin. As in the novel, the chimes of Big Ben represent the thudding sound of officious time that intrudes upon the heroine's reflections. At the end of the act, Ferri is left alone as four dancers peel away. As the score surges, retreats, we sense her ruminative investment in the past, her disengagement in the present (does she even notice the benevolent, tweedy hubby played by Gary Avis?). Where do these leave her?
A place to play
Where we go in the second act, Becomings, is away from this world and into the free play of imagination. Written between Mrs Dalloway and The Waves, Orlando (1928) was Woolf's 'writer's holiday' – 'I want to kick my heels and be off,' she confessed as she began work.
That's pretty much what McGregor does too. It's an amalgam of joyous fictions – the scritch of the inventor's pen begins the act. If Orlando, with its time-hopping, gender-swapping protagonist, is an anti-biography – refusing the horsehair solemnity with which Victorian biographies were stuffed – then McGregor devises an anti-adaptation. Characters and events refract across the cast into mere shards of resemblance (does the darkly reflective floor suggest the black ice of the frozen Thames from one of the novel's set pieces? Possibly. Does the fat lick of catwalk down the centre of the stage remind us that self-fashioning Orlando changes clothes but not her fundamental identity? Could be). Orlando her/himself seems to prism through the androgynous figures of Natalia Osipova and Steven McRae (pictured top by Alastair Muir/Evening Standard). Two weeks ago they delineated the bouncy hetero relations of La Fille mal gardée. Here, they share a darting velocity, athletic daring and sensuous shimmer: gender at play, but never at rest.
If the first-act figures portrayed by Ferri and Watson seemed trapped in their bodies, Becomings explores the sheer pleasure of inhabiting a body, so speedy and sexy. The delicious ability to follow a lunge or spin, to have a leg or hip-ripple propel you across the stage: imagine! This was Woolf's delight, letting her imagination romp – where the mind could get laid and scorn the consequences, as Orlando inches into maturity with no loss of youthful verve.
Woolf had planned to write her faux-history 'at the top of my speed,' and McGregor, too, throws out solos, duets, quartets, sextets, at a captivating pace. The dancers often wear shiny gold doublet and hose, like spacemen of the Renaissance. Lucy Carter, meanwhile, sends lasers and multicoloured light tricks across the auditorium to Richter's scurrying strings. You whoop at the amyl dazzle of Becomings – but it's a place to play. You couldn't live there.
Life came breaking in
Imagination was never, fundamentally, a retreat for Woolf. The last act, Tuesday, begins with Gillian Anderson reading her beautifully composed suicide note – reassuring her husband that 'you have been in every way all that anyone could be.' The light rises slowly on Ferri, standing alone onstage, like the writer contemplating her final morning in March 1941. A strip of film shows the slow churn of the sea; juxtaposed with the plangent strings of Richter's score, I thought about Britten's Peter Grimes, another story of a mind in extremis finding death in Sussex waters.
Ferri's last new ballet for the Royal was Kenneth MacMillan's anguished Different Drummer, based on Woyzeck. MacMillan's ballets were tuned toward despair – but, for all the sombre tread of Woolf Works, I would guess that McGregor is fundamentally optimistic. The programme quotes Woolf herself: 'I meant to write about death, only life came breaking in as usual.' This last act is full of reasons to live: the warm conjugal touch of Bonelli's bare skin, even if Ferri pulls away from it; the sweet sisterly kiss Sarah Lamb blows across the stage, even if Ferri doesn't see it. Suicide isn't inevitable, however deeply this woman feels it to be. Those left behind aren't better off without her. Even the waves themselves are not chilly currents but warm-blooded dancers, pacing forward, meeting our gaze, holding Ferri as she wheels around. When Ferri stops, short – the catatonic state she briefly adopted in act one, now never to be transcended – there's no more to be done. 'I can't even write this properly. I can't read.' For Woolf, a mind that could not respond as she hoped was a tragedy. For a dancer, it's a body locked away.
Follow David on Twitter: @mrdavidjays