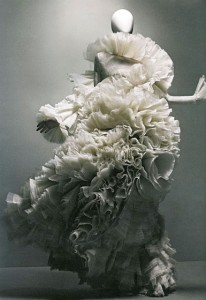 'It's a jungle out there.' Alexander McQueen's voice emerges from a garble of colleagues and observers at the beginning of Savage Beauty, the mighty survey of the fashion designer's work at the Victoria and Albert Museum in London. Much has been made of how he designed with his sisters in mind – provoked by a need to protect them. Yes, it's a jungle out there. But it's also a jungle in here – in the heart and in the head.
Roll up for McQueen's Travelling Cabinet of Curiosities – fashion's freak show (at the centre of the exhibition is a room stacked to the ceiling and called, indeed, 'Cabinet of Curiosities'). An overgrown coat of synthetic black hair looks wildly out of control but is rigorously scallopped. Crocodile epaulettes, impala horns twisting through suede – these are self-harming sensations. Elsewhere are miracles of craft that appear like freaks of nature: the deep red butterflies swarming as a headdress, the disconcerting lustre of an oystershell underskirt, the dress made from a luscious tumble of flowers in 18th-century pinks and greens, blooming and rotting into each other: dying even as they to perfection grow. The exhibits feel like a fetishist's prisoners as much as a scholar's curios. It's the hoard of a pervy anthropologist – the kind of Victorian naturalist who kills as he collects.
Masque of night
In an ideal exhibition, we'd have models, not mannequins. All the better to sashay, strike a pose, leave us staring as they sauntered out the door. Weird things, mannequins – you quickly realise how different the gust of energy that comes off one with hands on strutting hips to one whose arms hang limply by its sides. Some of the mannequins have a bad time of it – tricked out in gimp mask and harness, and the curators often display the garments like a series of Bluebeard's late wives. Much of the show reminded me of Angela Carter's The Bloody Chamber – glittering and resourceful fairy stories, where young brides take on tigers, adventuresses best beasts. If they're lucky.
Luxury holds an ambiguous allure in McQueen's masque of night. Some of his women seem dressed to oppress – others remind me of the Duchess of Malfi, scorning being shot to death with pearls or have her throat cut with diamonds. Especially as caught in this display, their glamour seems a perpetual durance – a life sentence far away from daylight.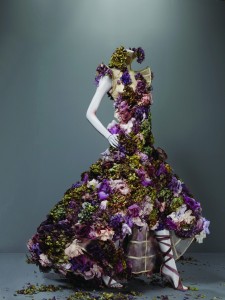 If art is about the ability to inhabit ambiguity, to push contradiction to its limit, then McQueen is an artist. He is a master of the mixed message – a confusion that disarms the viewer. Military frogging sits above froufrou. A jacket has a chastely high neck, but a teasingly cropped waist. An ensemble might be determinedly buttoned up but unexpectedly exposed. Or wilfully exposed yet repelling all advances. The vulnerability may disarm, but it's a decoy strategy. Sex bits are fiercely withheld – McQueen throws a glimpse of flank or elbow to distract the slavering voyeur. Even the wisp of fabric which seems to hold a mere trail of feathers takes care to cover breast and groin.
Smoke and mirrors
The trouble with a show drawn largely from single archive and given a brand's imprimatur is the lack of context. This McQueen didn't see, read or know anything other than the mirrored cabinet of his own genius. He was, nonetheless, a collaborator , and occasionally designed for the stage – brilliant costumes for Sylvie Guillem and Robert Lepage in Eonnagata (2009), confidently pleating between soldier and seducer, lady and gent (similarly, at the V&A, a kimono plumps up to make its wearer seem a samurai). His style was undeniably theatrical, radiating a sense not so much of character, but of persona. Wear me, the clothes say, and you'll have the resource to stride into any room, anywhere. Wear me and take your place on any stage.
Photos of the work from the catwalk often pushed the sense of sex or damage. By themselves, they have a greater sense of self-possession and serenity. Many of the clothes are ready for their spotlight – diva or ballerina optional. A black swan jacket, feathers alarmingly puffed up, promises both flight and fight, intimidation and seduction in one. Its opposite number, shining at the other end of the same room, is made of tightly contained gilt plumes, the full, low bridal skirts beneath tendrilled with gold. Others contain their own magic act – the capes that forever sigh in midair, containing their own transfixed billow; the silver papercut dress that curls around the torso and a single leg, while the rest of the body appears to have vanished.
A centrepiece of the show, from McQueen's Widows of Culloden collection (2006), draws consciously on a Victorian stage illusion – Pepper's Ghost, the classic trick of smoke and mirrors to summon ghosts. Inspired by Loie Fuller's Danse Serpentine, Kate Moss's damaged Tinkerbell emerges from and is reduced to a glint of starlight, unravelling her white organza, twirling like a mummy trying to escape from her bandages. The frock itself is displayed in immaculate stasis, a tight spiral of disconcertingly white widowhood. No inch of skin is exposed – it's a bride's dress turned into an irreproachable house of mourning. It's a costume that creates character, that sets a state of mind, an emotional palette. It's theatre.
Photos © Sølve Sundsbø/Art + Commerce
Follow David on Twitter: @mrdavidjays