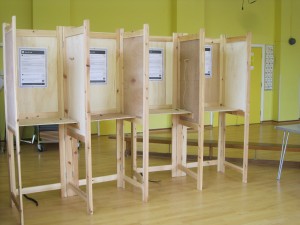 You might as well spend the evening of a national election at the National Theatre: it should be, among other things, somewhere where a nation can speak to itself. So that's where I went.
Rufus Norris' first programme as artistic director offers a spread of voices arguing about how humans should act towards each other: environmentally (Everyman), maritally (The Beaux' Stratagem) and governmentally, in Light Shining in Buckinghamshire, Caryl Churchill's 1976 play about the English Civil War. In this last, radical proposals and whirling rhapsodies inhabit a spectacular set by Es Devlin: a vast banqueting table at which most people struggle to find a place, their words rising to meet a burnished ceiling tilting above them. Lyndsey Turner's lucid production, which I saw soon after it opened, has a community chorus passing through Bruno Poet's bronzed, smoky lighting and is almost too beautiful for this rhetorical grapple and wild-fringed theology of this period. It's a rationalist's elegy for what might have been.
Churchill draws feelingly on 17th-century pamphlets and records, with a central scene distilled from the Putney Debates – the meeting of Cromwell's generals and representatives of the soldiers who fought against the king. For election day, the National also programmed a rehearsed reading of the debates in the National's small temporary theatre (still unnamed after its initial incarnation as The Shed – honestly, how hard can it be to name a theatre? Call it the Dench and have done).
Barebones energy
Mel Hillyard's 45-minute edit of the debates was a crackle of barebones energy. Eight actors sitting in a semi-circle spoke these words carved from history. History in the making, in the undoing. A wide franchised proposed, refuted, not enacted. A shiver at the liberties some of the speakers proposed – lime the right to vote even if you weren't a property owner, a notion that speaks to our increasingly unhoused nation – and an ache at liberties not even thought of (no one suggests giving women the vote). Cast across gender – Adjoa Andoh made such a commanding, perplexed, committed Cromwell, that you long for someone to write her a play – it let the past bump into the present, a bracing corrective to cynicism.
And it was good to have those impassioned voices in my head when I came back into the same space an hour later. Alexander Zeldin's play Beyond Caring – in a superbly focused production transferred from the Yard Theatre in east London – is a sobering corrective to optimism. The space – concrete floor, furniture of the barest utility, greyed-out walls that can never be scrubbed – seemed to be part of a meat- processing factory (there was talk of a new line of sausages. 'With thyme, I think'). It's a work room, a rest room that sneered in the face of rest. Three agency cleaners joined a permanent employee and a manager buoyed by his little gust of authority. The work is arduous, the pay meagre, the conditions (time off? healthcare?) vanishingly basic.
And this is work in 2015 for so many people in the UK. No satisfaction, no security. No banter, no benefits. Just work, because the alternative is no work. Just the citric miasma of cleaning fluid. We can't be certain of the timespan of the action, because everyone is so chary of personal details. Only the flickering fluorescent light breaks scenes, and occasionally dims and throbs as if to suggest someone is watching – though if it's the spiritual higher power that the manager believes in, I wish it would intervene. The performances – by Luke Clarke, Janet Etuk, Kristin Hutchinson, Victoria Mosely and Sean O'Callaghan, who devised the piece with Zeldin – often show a desperately circumscribed tenderness inching through bone-deep fatigue. Their employers are certainly beyond caring. They can barely find time to care for themselves. So who shouldn't be beyond caring? Us, I guess.
Paper, wood, pencil
The polls here in the UK have not long closed. I'm trying to avoid the media speculation until results come through, though with little success. I had tried to vote in hope, in optimism, in the bright clarity of sunlight. Beyond Caring makes that determination to cling to hope seem like a luxury, but it isn't. In grey times, it's a necessity – the flicker of a pulse that reminds you you're still alive.
My first trip of the day was to engage with the most lo-fi theatre imaginable. The British system of local polling stations comes from the school of two planks and a passion. Photocopied signs point to my local primary school – the children freed for the day while the grown-ups play with paper and pencils. Some thinkers suggest that whizzing up the technology will bump up the voting figures, but I'm always enchanted by the homespun paraphernalia. Paper, wood, pencil. Democracy. Going into a little wooden booth – a barely secret place which still offers a delighted quiver of ritual – to make a satisfyingly thick cross with a stubby pencil and place the folded paper in a box. A box! It's a national, interactive production. And we even get to decide how it ends.
Follow David on Twitter: @mrdavidjays