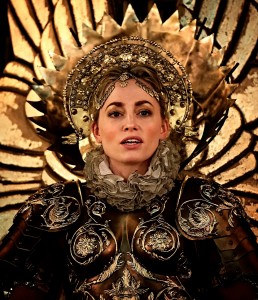 Someone starves to death, another stage manages his own execution. A person falls victim to a booby-trapped chair. And someone dies, as it says on the playbill, of a broken heart.
John Ford's The Broken Heart (c1629-33), in a rare revival from Shakespeare's Globe, sounds sensational. And of course it is. But it is also unlike more familiar Jacobean tragedies – it's even quite distinct from Ford's better-known 'Tis Pity She's A Whore, also recently revived in the Globe's candlelit indoor theatre.
A thinker's play
As Performance Monkey noted earlier this year, the opportunity to see a range of early modern drama makes clear how wide and wild a period that is. (As well as the Sam Wanamaker Playhouse at the Globe, the RSC are in on the act too – programming Marlowe's Jew of Malta and an even rarer Ford, Love's Sacrifice, this spring).
What both Ford plays share is a sense that the demands that the world places on us – social, political, commercial – are simply impossible to bear. We all feel that sometimes, staring at the streetlight shadows in the smallest, loneliest hours – but Ford finds this a heart-sickening condition of his culture: that emotion and expediency cannot be squared, that desire cannot match duty, that life cannot be lived.
In 'Tis Pity, love turns inward, squirreling into a secret space away from a corrupt world – notably, the incestuous compact between Arabella and Giovanni. Michael Longhurst's production this winter foregrounded its gaudy high-fashion sensibility, its wit and shocking pathos. Caroline Steinbeis, directing The Broken Heart, describes it as 'a thinker's play' – in a programme interview, she suggests that Ford 'seems to have an understanding of weight and melancholy; of that place in between that we can glimpse or feel for a brief moment before it's gone.'
Hamlet gone wrong
What does that mean onstage? Ford set 'Tis Pity in a lurid contemporary Italy, but The Broken Heart in classical Sparta, where happiness is swiftly snatched away – from Penthea and Orgilius, whose betrothal is broken so that she can be married off to paranoid moneybags Bassanes; from Princess Calantha and the warrior Ithocles, who can't even speak publicly about their love until far too late, when a ring is placed on a corpse's finger. Fathers die, brothers meddle in their sisters' wishes; the most you can hope for is getting out of the world asap.
Some reviews worried about the tone, but Steinbeis' balance between grim, giggle and peculiar seemed right to me. Her women were superbly withheld – Amy Morgan's Penthea, in particular, moved stiffly, spoke remotely, as if she's decided to be an effigy before the play begins. And the men were properly ridiculous – comic characters at the wheel of a tragedy. Owen Teale's Bassanes is an OCD pantaloon with real-world consequences, and the excellent Brian Ferguson located Orgilius' Hamlet-gone-wrong trajectory: student aspirations, problems with girls, disguise of questionable efficacy, vengeance which harms himself as much as anyone else. It made for a disquieting, unpredictable evening.
As I've noted before, each Wanamaker show takes a different approach to the theatre's signature candlelight. Longhurst ramped up the emotional dynamics – swooping them up high, plummeting them daringly low, extinguishing them altogether, heightening the drama's dynamic extremes. Steinbeis often pulls them up high, and keeps them there: characters inhabit a dun-toned pall, dulled like their unhappy circumstances.
Photo (top): Sarah MacRae in The Broken Heart. Photo: Bill Knight via theartsdesk
Follow David on Twitter: @mrdavidjays