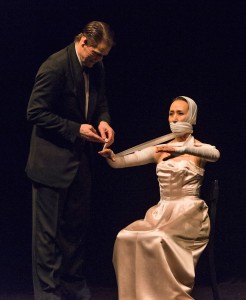 How much should we talk about history when we talk about Pina Bausch? Audiences respond to the late choreographer's elemental themes, but Bausch's angst was not only existential, but also historic. Sexual politics were an abiding theme in her work, and the pummelling conflict between men and women is the livid matter of much of her dance. But it also figures much more than this – and the 1984 piece Auf dem Gebirge hat man ein Geschrei gehört, which last week received its UK premiere at Sadler's Wells, speaks clearly to the living trauma of the Second World War.
In 2012, the Tanztheater Wuppertal brought to London ten of Bausch's works made in collaboration with major cities around the world. They were as various as the places that inspired them – from Hong Kong to Rio – but for me, the most successful were those which sniffed the air and detected not only what a place revealed but what it concealed. Palermo, Palermo (1989) is a rackety piece driven by hunger, from a Sicily still waiting for its economic miracle after wartime devastation. …como el musguito en la piedra, ay si si si… (2009) drew lyrical strength from the unspoken disappearances of Chile's dictatorship. Unhealed wounds, longlasting scars, unacknowledged silences: these are Bausch's resonant material.
War baby
Bausch was a war baby, born in 1940. She references her childhood, obliquely, in Café Müller, where a figure sleepwalks through the production in a nightdress. Bausch herself created the role, drawing on her childhood experiences, and with eyes shut tight against the surrounding scrabbling conflict, it suggests a self-protective somnambulism.
The family romance and childhood frets that ripple through her work are also about being a child of midcentury Europe – its damage and desires. The title of Gebirge (which translates as 'On the mountain a cry was heard') has been traced back by Hanna Weibye of the Arts Desk to a passage in Luther's Bible, referring to an inconsolable mother lamenting the massacre of the innocents. Innocence, brutalised and herded towards oblivion: there are less accurate descriptions of the anguished mid-20th century.
In Gebirge, Bausch drives her signature repetition to the edge of endurance, both in action and in sound. Two scenes are set to Billie Holiday's recording of 'Strange Fruit', about lynchings in 'the gallant South.' On the second hearing, the recording seems to stick, jump backwards several times – as if Bausch isn't ready to let us move past or brush it aside.
Some images seemed unavoidably steeped in the Holocaust. It is difficult to see women huddling together in a frail caterpillar, heads bent, sitting in the dirt, leaning into each other's backs, and not think of the Shoah's victims. A woman who stands at the front of the stage as the first half ends has her long hair chalked grey by a male dancer, looking as though trauma has aged her prematurely. She remains there throughout the interval. She stands, and endures, and bears some kind of witness.
Bausch elides sexual and political oppression in the recurring figure of a beefy man (Michael Strecker) in too-small fuchsia swimwear, shades over his eyes and elastic smushing his ears and nose into porcine shapes. He strides around bare-chested in his budgie smugglers and incongruous black loafers, ordering and manipulating the dancers (particularly, but not only, the women). He's a stolid pink patriarchal dick but also a capricious, unreadable commandant – the phallic imperative in every sphere.
He's not alone – a man whose violence verges on hysteria attacks the huddle of women, slapping and screaming at each in turn until they cry 'Uncle!' and run away. Defiance only lashes his fury – 'I want to kill someone!' he yells. Like the commandant, he is not any less terrifying for being ridiculous. As Judith Mackrell observes, it is 'a jagged wound in the piece, and suddenly makes us see the whole production through the lens of Bausch's Germany and its Nazi past.'
Like most of Bausch's work, Gebirge is capacious. Often beguiling in detail, disarming in humour, its scenes can't be reduced to a single theme (if you read one devoted blogger's aide-memoire, you may wonder what links this catalogue of dancing quiddity). Even a single sequence can be at once surreal (the brass ensemble of elderly gents that arrives centre stage), painful (the woman who stands in front of them, slapping at her arms) and blissfully daft (the group of men who bear her aloft, while she rows with invisible oars, bobbing dottily across the stage).
Sleepwalking through history
Like Bausch's landmark Rite of Spring (1975), it too is set on an earth floor. Rite's soil flew into the air with each movement, and increasingly streaked and smeared its performers as they were impelled towards its cruel ending. Gebirge is less extreme – at least from my seat in the circle, its earth seemed heavier, less mobile, and the frequently dull lighting adds an oppressive note of its own. It's a piece which largely refuses forward momentum or opportunity for release.
One sequence that recurs in both halves of the work features a man and woman desperately trying, and failing, to evade groups of men who run them down and drag them together into an unwilling embrace. He struggles, she screams, to no avail. Over and over again. It may echo Rite's cruel fertility rituals, it may have something to say about individuals crushed by societal pressures. And it may also figure Nazi brutality: certainly to deny these readings is an act of erasure. The aftershocks of the second world war reverberate in the collective unconscious – in Germany, and far beyond. To ignore them is to sleepwalk through history.
Photo (top) by Foteini Christofilopoulou.
Follow David on Twitter: @mrdavidjays