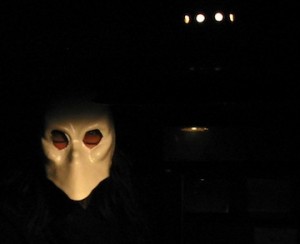 It has taken me a while to work out why I often have a problem with immersive theatre. In theory, it's marvellous – upending the staid conventions of bourgeois propriety, escaping the proscenium's gilt and plush, the middle class's guilt and hush. Opening the theatre to the world. Letting the world into the theatre.
Yep to all that. That's not my problem. The problem is that, once you let in the world, you also let in me. And I've had more than enough of me.
I was thinking the other day, as I often do, about the lure of invisibility. Most people, offered the hypothetical choice between flying and invisibility, would choose the former (transcendence, speed, exhilaration), and that Team Invisibility is a furtive shambles of ne'er do wells. As Kathryn Schulz wrote recently in a New Yorker review on the subject, 'broadly speaking, there are two reasons for wanting to turn invisible: to get away from something or to get away with something.' It's the least reputable superpower.
Safety of the shadows
Yet I've always had a craving for invisibility. Released from the shackles of tangible presence, I'm convinced, I'd be able to see how the world works, watch how people behave without the inhibiting effect of my own galumphing self-consciousness. My body, voice, idiot grin – they all get in the way. Without them, surely, I'd find out how people are supposed to inhabit the world, how this living thing is meant to work.
It's no surprise, then, that I drifted toward a profession that involves lurking in the darkness, like a phantom in waiting. (I'd make such a good ghost. I wouldn't haunt, I certainly wouldn't poltergeist. I'd just linger, slipping under the goosebumps. Too ghoul for school.)
Except. Being a theatre critic often means forsaking the safety of the shadows. It's not all about anonymity somewhere in the depths of the circle. Instead, we shamble round disused postal depots, derelict offices and warehouses earmarked for swankpit development. We sidle through especially created environments, or squelch through muddy park and rec ground. It's often fun, sometimes even life-changing. But it's a form of theatre that inevitably wrestles with the visibility perplex.
Recently, I saw Maze, an immersive dance piece by choreographer Jasmin Vardimon in the seaside town of Margate. The town has seen better days – though it's busily reclaiming its cachet – and Maze unwound in the Winter Gardens, a resplendently shabby pleasure palace. The artist Ron Arad had created an arresting construction in its midst, a labyrinth built of industrial foam: more usually found settling in your sofa, but here an uncanny soft-solid material to squeeze through, bounce against or sink into.
As an environment, it was beguiling (here's my review). As dance, it was a bit drama club (wannabe sirens and cackling madcaps). And as an experience, it was way too self-conscious. We spectators stumbled through the maze in our socks, politely let one another pass, exchanged tight smiles of complicity. It was hard to feel we were unspooling into primal fears and buried archetypes. And as we left, waltzed out by Vardimon's engaging dancers, a sense of release into the world was missing – because we hadn't left ourselves behind.
I longed to watch, not to be
I had a similar experience at You Me Bum Bum Train in 2012. This wildly acclaimed creation uses cascades of volunteer bodies to create a wild succession of joltingly realistic environments – orchestra, crime scene, kitchen, salon – into which you're briefly hurled. I absolutely adored seeing the conviction and care with each micro-scene was built – so many people, so many props, such poker-faced detail – and I squirmed repeatedly at having to be the focus of these scenes. Missing the point, I know, but I longed to watch, not to be. I craved that cloak of invisibility.
Boys who wear glasses have long chafed at the tight white masks that spectators wear in performances by Punchdrunk, Britain's reigning emperors of immersion. Long plastic triangles, like remnants of some debased commedia, they squeeze the specs no end (though on my second visit to The Drowned World, the elastic had mercifully slackened). But they have a powerful effect – in sites far bigger than the Margate maze, they allow audiences to wander like ghouls, freed from discretion as the undead surely are.
Punchdrunk shows may not be perfect, but the experience of watching, and of seeing your fellow watchers, can be immense. In the small-town Americana of Faust or The Drowned World, blank faces cluster in a doorway to see a marriage crumble, or press round the combatants in a Main Street fracas. The corkscrew dancers seem oblivious, but all around you see the whiteout faces of your fellow voyeurs: it isn't clear who is haunting whom, which is the phantom. Either way, we're blessedly invisible – and able to watch with brutish, unapologetic intensity. If only we could always shove our intrusive selves in the cloakroom.
Top picture: photo of Lex Leifheit at Punchdrunk
Follow David on Twitter: @mrdavidjays