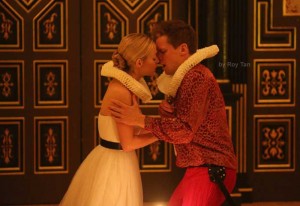 Sex. Slaughter. Ruff stuff. You may think you know Jacobean tragedy. But here's the thing about genre. If theatres only programme an occasional offering, it's easy to assume that it's typical. If you only see Miss Saigon, you might think that all musicals are bombastic and overwrought; or that they're all cheesy and cheery if Annie is all you know. Jacobean tragedy is infamous for improbable plot twists and implacable gore, and most plays in the genre display those features. But that doesn't get you very far: see several in a relatively close space of time and distinctions emerge, stark differences of tome and approach.
For a while, it seemed that these plays were slipping out of the canon, but they're back. The RSC is once again programming them in its Swan Theatre, and an especially telling laboratory for the genre is the new Sam Wanamaker Playhouse at Shakespeare's Globe. During its first year, the theatre has produced Webster's The Duchess of Malfi, Ford's 'Tis Pity She's A Whore and now The Changeling by Middleton and Rowley.
Laboratory conditions
The Wanamaker, based on the indoor playhouses for which these plays were written, establishes laboratory conditions: each play is lit by candles alone, in period costume with little additional scenery. There's always live music and a jig at the end. Two have scenes set in asylums; alongside adultery, incest and unconsenting sex, all are generous with carnage. Characters are variously stabbed, shot, strangled and poisoned by a toxic Bible. The duchess grasps what seems to be a severed hand, a diamond ring (plus the finger that displays it) is hacked off in The Changeling, while Ford's play ends with a woman's heart brandished on a dagger's point. Transgressive desire, tricky death – at plot level, they may sound interchangeable.
The Wanamaker offers intimate confinement. A cherishable wooden cradle, its ceiling richly embellished, its back wall painted black and glowing in the amber light, its challenging sightlines mean that if actors step away from centre stage they vanish from view for many. But despite those demands, the directors and their creative teams have found utterly distinct ways to approach these three key tragic works.
Setting the murk aglow
Take the candlelight. Scholars of early modern theatre consulted on lighting during the construction, and are using the productions as case studies for research. Veronica Horwell has lovingly charted how the candles were used, but each production finds new ways to characterise its text. Malfi opened the theatre in a production by artistic director Dominic Dromgoole that set the murk aglow. He realised how mesmerising the candle-play could be – gold light sighed around Gemma Arterton's young duchess to enhance her optimistic glamour, but as the plot darkens, the snuffed flames left warning smoke hanging in the air, the shadows thick with gothic shivers.
Michael Longhurst's production of 'Tis Pity (photo top by Roy Tan), a dangerously knowing play, pushed the lighting to extremes – the chandeliers were hoisted high up or dragged down so they crowded in dangerously close to the actors. Murders were committed in pitch darkness. In The Changeling, Dromgoole plays fewer tricks. For most of the evening, the chandeliers remain at medium height, casting an even light on a plot that works itself out with some severity. Melodramatic extremes are less important here than an unsparing rigour. The few additional effects are notable – madhouse inmates blow out the candles and set the chandeliers swinging smokily; the heroine, Beatrice-Joanna, who has stepped off the path of light, carries a single candle close to her face. De Flores – her confederate, hit man, blackmailer, lover – approaches with a four-branched candelabra to confirm more slaughter: when he steps away, she's plunged back into the lonely dark.
How different these plays are. Yes, three powerful heroines sidle through the narrow corridors their cultures allow them for self-expression. But Malfi makes cosy marriage appear a crime against the state in a paranoid court; in 'Tis Pity, incest briefly seems an honest refuge from a callously acquisitive world. The society of The Changeling is like a hinged box: a fort and a madhouse, mirror images of each other, working out their tight intrigues and exposing motive like a pair of petri dishes. Hattie Morahan, a gloriously febrile artist, plays Beatrice-Joanna as smart and increasingly unhinged, her voice hollowed out by the atrocity she welcomes. The round-eyed impulse that she thinks will make her happy – recruiting DeFlores to bump off her unwanted fiancé – gives only a second of security. Soon she's submitting to sexual blackmail, faking a medical and having her only female companion killed. Each deed steps into pitiless self-knowledge, under the steady flame of those candles.
Even the final dance – as at the outdoor Globe next door – is rejigged for each play. High-fashion, assertive 'Tis Pity added Beyoncé's pump-action strut from 'Single Ladies', but The Changeling's jig isn't there for fun: it's a revenant's nightmare, the dead circling round the living, while Morahan discreetly wipes away the blood trickling into her ear. There are more plays to come, more solutions to the space, more distinctions to emerge in the flame.
Follow David on Twitter: @mrdavidjays