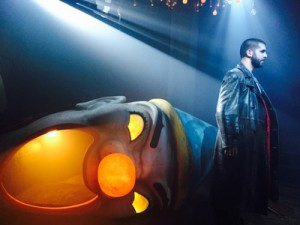 Some people plunge into pantomime for their festive entertainment. I went to America. Not real America, but pretend, demi-dystopian America, courtesy of two musicals – Assassins and City of Angels – and a scintillating reboot of The Merchant of Venice set in Las Vegas. Three versions of damaged, damaging America – its greed and desperation, its delusional entitlement and self-making desire. Happy holidays!
Just as Broadway will often drop a cringe in our direction, British theatre has long been fascinated by the blood and brains of American drama. Sixty years ago, Williams and Miller gave us sweat-smeared desire and democratic angst – the passion and politics that in Britain often had to swerve around censorship and sensibility. In the 1980s, Mamet dazzled us with swears and provocation. Britain has also been pretty good to Sondheim, Wilson and Kushner. Nowadays, it seems, we respond to America gone wrong.
Industrial smoke and mirrors
Each of these London productions showed Americans unmoored – heading west to graft a new beginning in Hollywood, to win big in Vegas, to bag themselves a President and magic away their grievances. Three terrific scores yelped with nervous, unrequited self-love. The key number in City of Angels (Donmar) is a man duetting with his own recalcitrant creation – 'You're nothing without me' – while the Elvis impersonator crooning 'Are you lonesome tonight' in Merchant (Almeida) conjures a slump of misery in the wee small hours. As for Assassins (Menier), Sondheim's 1990 historical revue about high hoping no-hopers who tried to kill presidents from Lincoln to Reagan, that is bookended by a doomed chorus, 'Everybody has the right to be happy', steeped in the bristling, competing entitlement that has currently mired the country in stasis.
Each this smart trio of holiday outings throws a side-eye on rubes, ranters and rascals operating far beyond New York. City of Angels (1989) has a book by Larry Gelbart, who had recently been fired from the movie Tootsie. Licking his wounds, and lacerating Hollywood, he imagined a New York novelist lured by movieland in the blacklist era to write a screenplay from his own Chandleresque novel, finding himself and his hard boiled shamus both screwed by the prevailing deviousness.
All three shows inhabit knowing popular culture, the arts of industrial smoke and mirrors. The set designs are all tiptop: Robert Jones' Hollywood in City of Angels; Soutra Gilmour's abandoned funfair for Assassins, its red white and blue paint weathered by neglect, its clown a gaping head in the dust; Tom Scutt's adoringly blinged pillars in Merchant, where Venice is on the Vegas casino strip and Belmont not a fairy tale but a reality-tv studios, its cameras always ready to roll out a fake smile.
'Get off your backside, shine those shoes!'
Here's a highlight from each show. In Assassins, it has to be the execution cakewalk from Charles Guiteau, who shot President Garfield. Andy Nyman played him as a manic hamster, scampering in wide circles, eyes and gnashers gleaming as he barked 'Look on the bright side, not on the black side, get off your backside, shine those shoes!' Anything is possible in 'the land of opportunity', so you're cheated if it doesn't work out. Jamie Lloyd's production gets the longing and lunacy of all of these characters – all so easily pushed to the margins – and Guiteau's number is perforated by Jamie Parker's balladeer, plucking provokingly at the banjo before he emerges as Lee Harvey Oswald, wound up and pointed at the cavalcade in Dallas.
In City, I've always yelped at 'You can count on me', the sardonic lament of an overlooked girl Friday. 'My kind of dame will surely die out like the dinosaurs' she sings, which rhymes with 'I've got quite a name with hotel detectives who break down doors' ('guess who they expect to see'). Rebecca Trehearn offers all manner of droll, but what I'm taking away from Josie Rourke's fabulous production is the dream factory conjured by lighting that bisects the stage between sunny technicolor and sneering noir and genius projection work by Duncan McLean. Typewritten dialogue clacking forward and instantly retracted; backward lettering breathing over on frosted office glass. It's a city of shadows and more importantly of fabrications – where truth can be instantly produced, and more quickly traduced.
As for The Merchant of Venice, relocated to a Sin City of wealth and speculation, Rupert Goold's production is aces – nails each character, rethinks each scene. Antonio's sin is snobbery – he's a trust fund patrician who can barely endure setting foot in Shylock's eazy-loan cubbyhole. No wonder Ian McDiarmid's Shylock seems maddened enough to plunge a knife into Antonio despite the judgement against him. But the most radical revision is Susannah Fielding's Portia. It's such a tricky role – is she a smug victim or accidental feminist, daddy's little princess or legal eagle? Fielding doesn't try to fill the gaps – her Portia is the gaps. The casket test to find her a husband becomes a tv game show of silicone desperation – Portia playing the Texan ditz in blonde wig and transparent stilettos. She plays legally blonde in court, but is pitiless against Shylock – there are winners and losers in this unsparing America. Back home with her vapid new hubby and his thuggish pals, she's lost – a confection melting into a sugary puddle. The wig falls askew, one heel is lost – marriage and inheritance have been bad speculations and she's crashing.
Funhouse nightmares
They may not be festive but all three shows have a rancid gusto: their energy comes from cupidity, greed, misbegotten obsession. You can't look away, you can't feel squeaky clean. For Brits, there's comfort in knowing that, for all our own plastic dreams and tainted democracy, we don't share these particular funhouse nightmares. If British stages once looked to American drama to fill the gaps in its emotional repertoire – swagger, political fury and sexual heat – now that we can do these for ourselves, we look at it like the culturally colonised watching the empire crumble.
Follow David at @mrdavidjays