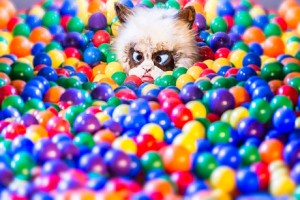 Using the theatre to discuss the internet is like trying to microwave your ready meal with a candle. Dawn-of-time tech, you get me?
And yet, using the shonkiest tools available – actors in fuzzy animal suits, a multicoloured ballpond, cheesy dancing, inflatable penii – Teh Internet Is Serious Business at London's Royal Court gets a handle on the slippery potential of the shiny medium. It traces the transformation of Anonymous as an offshoot from 4chan, an online trolling meeting ground devoted to prankish lulz, into an independent vigilante movement of unpredictable reach and force, fomenting online acts with meatspace consequences.
Tim Price's play delineates very clearly the way two disaffected young Brits (a too-bright schoolboy, an agrophobic in the remote Scottish islands) found their way into the Anonisphere and into its inner circle, their rise and fall of their pitch invasion of democracy while they were still too young to vote in a UK election (actors Kevin Guthrie and Hamza Jeetooa shift deliciously between virtual assurance and real-world discomfiture). The net, we know, has become the carrier of choice for fun, filth and longform theatre criticism, but Price nicely identifies the process by which trolls without limits met code-deep hackers in a highly-charged moment of political protest. Media corporations, the Westboro Baptist Church, the Tunisian dictatorship: an apparently disparate range of targets roused Anonymous' ire due to their attempts to control or censor social media. Using a talent for disruption and a skill for disorder, Anonymous for a time became a rolling, prankish force of civil disobedience. Unleash the lulz!
Does the play tell us anything new? It joined several other history plays on London stages: Great Britain, Richard Bean's rumbustious cartoon about the phone hacking scandal (fun, but no new news); Little Revolution, Alecky Blythe's provocative verbatim drama on the aftermath of the 2011 London riots; King Charles III, Mike Bartlett's future-set play which borrows motifs from Shakespeare's histories to provoke ideas of power and complicity.
I did learn quite a bit from Teh Internet, though the information could probably have come from other sources. Indeed, Jake Davis, whose story informs the play, has usefully collated some background material. I'd also read a profile of Anonymous activist Christopher Doyon (in the New Yorker. In print. Could I be less 3.0?). But Teh Internet offers more than a story – it offers a form. At a time when theatre is trying ever more ingeniously to incorporate digital technology into productions, to stage the way we conceive 21st-century networks, the Royal Court production audaciously dials back the clock to find another way: so analogue it's not even funny.
As Price explains in an interview on Exeunt, his play completes a loose trilogy of work around protest – following the scorching The Radicalisation of Bradley Manning and Protest Songs (around the Occupy protests). The Manning play dug into that hounded individual's route to political action – but although winding into his rebarbative experiences of school and military, had the cast of six share the title role between them. Manning is an individual, but we could all be Bradley Manning. Especially on stage, especially online.
Teh Internet takes that slippage of identity even further. It is becoming increasingly common to cast roles across gender – sometimes explicitly (Polonius becomes Polonia in Manchester's Hamlet), sometimes not (Maxine Peake's Hamlet remains Hamlet). The netizens are simply doing this for themselves: Kae Alexander's razor-sharp, lolly-sucking, flounce princess is, surprise, surprise, something completely other IRL. Teh Internet is deeply embedded in ideas of community – a community of people who share everything and nothing, who may spend 20 hours together each day but nonetheless have only the sketchiest notion of each other's age, gender or nationality. Having the chatroom diaspora jostling cheek by jowl in a shared physical space becomes a wonderful image of presumed, delusive intimacy.
The rampant theatricality of Hamish Pirie's production and Chloe Lamford's fantastically spry design is a glorious treat. You might expect screens and monitors and projections, all whizzy and modern. But they've identified the decisive playground simplicity of Anonymous – the production is staged, as it were, in Comic Sans. Actors tumble in and out of the side walls, dive into the ballpond at the front of the stage.
It's a terrific vision for the virtual proximity that the play explores. Virtual personae (the characters' characters) share a physical space, however remote from their offline physicality. The intrusive, border-free appearance of memes like Grumpy Cat and Socially Awkward Penguin, let alone multiple Rick Astleys rickrolling up through the floor, makes the floating kingdom into something material. The mandatory lulz are brilliantly evoked by outbreaks of exuberant dance – it's like a poorly maintained North Korea – and choreographer Emma Martin's particular stroke of genius is to stage sequences of code as wibbly, staccato dance phrases: joyous squiggles in which insist that keystrokes can assume real force.
The first time (let's call it Performance Monkey 1.0) I saw a dramatisation of the online experience was in Patrick Marber's Closer. I naively puzzled over actors Clive Owen and Ciaran Hinds, silently hunched at their keyboards, until audience sniggers prompted me to look up and see a projection of their mucky chat on a hookup site. Some years later (PM 2.0), Chris Goode's heartwrenching Hippo World Guest Book channelled webbery's random passion and lack of affect simply by reciting the scroll of entries on a super niche site – from spammers' gobbledygook and SHOUTY CAPS to punctuation-free enthusiasm.
As a theatrical staging of virtual space, Price and Pirie's work is inspired. Far more resistant is linguistic texture: how do you speak such a particular written medium? The net has filtered language in ways we're just assimilating. Beyond borders, beyond spelling, bucked and contracted. Price doesn't find a solution – I haven't read the text, but although his play looks like a link-happy webpage it sounds like, well, a play. Advice Dog, how do we solve this problem?
Follow David: @mrdavidjays