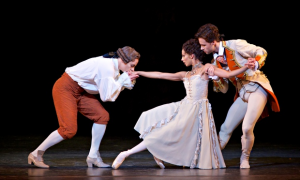 Seems I'm a lightweight. I thought that seeing two casts in the Royal Ballet's revival of Manon by Kenneth MacMillan was pretty dedicated, until one of my editors revealed she would watch six casts and had designs on a seventh. That's an awful lot of Manon: but MacMillan's 1974 ballet allows for a panoply of interpretation. Seeing how the pieces fall each time can become addictive.
Manon, based on Prévost's 1731 novel, centres around a young woman who wavers between true love and courtesan cash, before catastrophe takes the decision out of her hands. The title role is tricky – it can be sour or sentimental – so although I can't compete for thoroughness, but seeing two debutante Manons on successive Tuesdays is still instructive. First Francesca Hayward, a 22-year-old rising swiftly through the Royal's ranks; then Natalia Osipova, the Moscovite superstar encountering iconic British roles with fascinating results (she has danced Manon in Milan and Moscow, but this was her first time at Covent Garden).
There are moments in most narrative ballets when the ballerina can stop acting for a bit and do the dancing. Glitter and be gay becomes a choreographic imperative as much as a character note. Manon is not one of those ballets. At every moment, the heroine negotiates with her own disastrous destiny, though individual dancers will foreground sex, cash or tainted love.
That meant that, although Hayward's dancing was memorably clean and sharp, a beautifully honed first performance (pictured above by Alice Pennefather), it was her eyes that registered most strongly, especially in the pivotal party scene: Manon's apotheosis and her downfall. From the moment she entered on her curdled protector's arm, she was in lockdown. She wouldn't look her drunken brother/pimp in the eye; she refused even to register her desperate lover. She had committed to mercenary, and if that meant turning a switch in her brain to keep reflection at bay, so be it.
The benefit of being young is that Hayward doesn't have to act it. She looked fresh-faced among the demimonde and raddled lustmart; she could ditch pity with a youngster's ruthlessness. Osipova, saddled with renown, initially worked too hard to signal naivety, with an awed simper broad as a boulevard. Sex and power transformed her; she discovered both that she could wield and enjoy them. She pressed her body up against Carlos Acosta, and behaved as if any moment out of bed was a moment wasted. Lying on the floor, she stretched her arms high above her head, all 'do me now' (Antoinette Sibley, who originated the role, describes Manon's upper arms as her 'special erotic zone'). Acosta, a nice boy, fastidiously tucked her arms down by her sides.
Osipova shone, though quite differently, in the party scene. If she had given into being a mistress, it was because it felt so good. She oozed lubricious assurance – her entrance involved a kilowatt gleam and some rippling curves, claiming her new territory like Mam'zelle Sexymoves. This Manon came alive in desire – in the final act, deported and depleted, it was if she had already died, with only a husk remaining.
It might have been fun to see these two ballerinas swap partners. Opposite Hayward, Edward Watson found the needy freak in her naïve lover De Grieux – clingy, yearning, a forcefield of want when he tracked his heedless love around the party. He was a man born to stalk. Carlos Acosta located an innocent, seriously out-depthed. He looked gauche, a country mouse in the big city. De Grieux's fumbled cheating at cards is a detail I often miss (there's a lot going on), but Acosta fished so awkwardly in his pockets for the extra cards, with the clumsiness of a guilty conscience. If the prospect of being dumped pushed Watson's dancing into extravagance, Acosta took flight in the final act, when Manon's helplessness finally allowed him to leap like a hero.
It isn't merely the leads: MacMillan allows contrasts right down the line. I admired Helen Crawford's cosy courtesan, Genesia Rosato's deceptively giddy madame and Thomas Whitehead's seamy sugardaddy (rubbing at his frontage with persistent enthusiasm) in the first cast; in the second, Marcelino Sambé's exuberant artful dodger and Gary Avis' truly nasty gaoler. The ballet begins with Manon's brother hunched alone on stage. It's misleading – MacMillan never fully excavates his inner life, though we may draw our own conclusions from his penchant for casual violence, sis-pimping and getting his drunk on at the worst time possible. Even so, there's room for manoeuvre: Alexander Campbell made Hayward's brother a bit of a thug; Thiago Soares gave Osipova a warmer, harder, Macheath of a bro.
It's rare for straight theatre to offer two casts in the same production. There have been some historic role-swaps: Gielgud and Olivier as Romeo and Mercutio (1935); Pasco and Richardson as Bolingbroke and Richard II (1973); Rylance and Rudko as the brothers in True West (1994); most recently, and still visible in repeat screenings by NT Live, Cumberbatch and Miller as monster and meddling scientist in Frankenstein.
At least I could see two assertive productions of A Streetcar Named Desire recently. Tennessee Williams' pained masterpiece has usually been couched in a heightened, lyrical naturalism, but more recently directors (Ivo van Hove, Liv Ullmann) have pulled out the raw notes in the play. It can take it. Benedict Andrews, at the Young Vic, set it on a slowly revolving stage – Gillian Anderson's heroine, desperately clinging to her illusions, truly had nowhere to hide, her attempts to find rest continually unsettled. It was a pummelling, emotive evening; but seemed almost lush, operatic even, beside Sean Holmes' unforgiving version for his Secret Theatre company. A spare, bright set; unfeigned British accents. Much of the coverage focused on the casting of a disabled actor, Nadia Albina, as Blanche – but more pertinent was her unnerving lucidity. This Blanche didn't sink into a lush southern accent, didn't draw wisps of French Quarter atmosphere about her. And although many props suggested by the text were simply ignored, the concentration upon a single object could take on a furious intensity. A simple blue strip of paper became a party favour, a rhinestone tiara, a blindfold pushed over her eyes as Blanche yelled 'fire!' as if to an execution squad, willing on destruction. Same text: thrillingly unpredictable destination.
Follow David on Twitter: @mrdavidjays