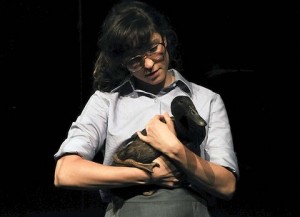 Belvoir Theatre's Wild Duck
Shall we start with the duck? Ibsen's stage directions keep the titular Wild Duck offstage. It remains a symbol of damage, or survival, or of secrecy long-subsumed. Well, pellets to that, because Belvoir Theatre from Sydney, whose lacerating 2011 production is at London's Barbican, give us plenty of chances to see and adore a real live, flapping mallard. Twitter pleasingly responded with variants of 'wild? It was livid.'
This is year of the feather at the Barbican: following Fiona Shaw's uncompromising duet with a vulture in The Testament of Mary (spectators wandered onstage beforehand and share a photo at talon's distance), comes the Belvoir duck. This instantly endearing bird opens the show with an inquisitive solo: exploring the space, holding the audience in the palm of its, um, web. Mocking Parisians at the 1891 French premiere of Ibsen's play quacked whenever the duck was mentioned: we soppy Brits were in danger of smothering the show in aaahs.
Belvoir's show is often woundingly funny but resolutely non-cute, so wherefore the duck? It's something about realness, about innocence. A duck cannot lie, but human characters are built up of the deceits they've told and received, the secrets they've half-understood, the love they've offered and withheld. A duck is just, blessedly, a duck. People are a whole other can of worms, writhing and ready to spill.
A duck is just a duck. People are a whole other can of worms
Belvoir say the play is 'after Ibsen.' How far after? Director Simon Stone and co-writer Chris Ryan offer a contemporary, Australian context but retain the original Norwegian names. The bones of the story are still evident – indeed, even more apparent, unforgiving spokes on which the narrative runs. As Alison Croggan perceptively wrote of the original production, 'you walk out of the theatre feeling that you have just watched an Ibsen play. The sinews of Ibsen's obsessions – the past that haunts and destroys the present, inheritance and paternity, the social critique of class and gender, the plutonium-enriched explosion of truth – are boldly translated into present day forms.'
Gregers Werle, a rich magnate's wandering son, has come home for his father's second wedding. When he learns that his father and Gina, now married to his longtime friend Hjalmar, had an affair around the time she became pregnant, he decides he has a duty to reveal the long-held secret. It doesn't go well. Discussion of the play often centres on Gregers – the idealist who, pursuing impeccable liberal principles, wreaks terrible damage. While the tension in many of Ibsen's plays is around breaking free of long-accrued deceit, the lies that bind and ultimately asphyxiate, The Wild Duck upends the dynamic. Dishonesty can seal your tomb, but Gregers' machete of full disclosure is equally destructive.
Stone and Ryan shift the focus decisively away from Gregers as the play develops. They're getting him to check his privilege – which enables Gregers, just like his father, to behave ethically and yet stroll away from the terrible consequences. The grim legacy of character from father to son is a recurring Ibsen motif: Dan Wyllie's Gregers is truculently resentful of his dad, but has nonetheless learnt the rules of engagement from him. He first appears with luggage in hand, and when he describes his serial short-lived relationships, it is clear that escape is always only a plane ticket away.
Ibsen's play turns on the relationship between two friends; this radically narrowed version deepens into a tale of two families. It isn't merely unfulfilled Hjalmar who struggles with revelation, but his immediate family too. They all have more agency in this production – the practical if poorly-educated wife becomes a guiding, emotional figure; the precocious schoolgirl and semi-senile elder are more fractious and playful. It's a squabbling, warm, integrated 21st century nest.
As a text, it's an immensely intelligent response to the original, but what Belvoir does is inseparable from how they do it. The lean script might suit microscope naturalism, but becomes a big-stage event. All but the very last scene take place inside a bare perspex box (design by Ralph Myers), starkly-lit, and with the actors miked. Sighs and stammers are amplified, intimacy held at bay. And we're there too. The audience is sharply reflected when the box goes dark between scenes. We're at a remove, yet implicated; not merely observers but observed in turn. We may think not only about what is happening between scenes, but about our own mess: the sex, lies and waterfowl, the hurtful things we've concealed and revealed, or had revealed to us.
Toril Moi's probing study of Ibsen suggests that The Wild Duck is 'a disturbing meditation on the connection between the ways in which words lose their meaning and the ways in which we avoid love.' It was a shock to discover that this mostly a new cast (only Anita Hegh's brilliant Gina – a grounded woman losing the ground beneath her feet – and John Gaden's old Werle were in the original). I can't quite imagine other actors inhabiting these roles: a Hjalmar who is less of an over-eager, pulpy shambles than Cowell; a Gregers who is less of an uptight, invasive muppet than Wyllie. This Gregers is horribly fascinated by Hjalmar's family – does he long to destroy it or, creepier yet, reform it around himself? The queasy way he hangs around once damage has been done and ingratiates himself with Hedvig (superb Sara West) is equally suspect – the false signals she reads aren't merely wrong.
 I wandered out stunned, head down, chest tight. It's a cardiac evening
I've been writing about the show's considerable brains, but that doesn't account for its clawing, scathing affect. I wandered out stunned, head down, chest tight. It's a cardiac evening. How do they achieve that? As well as the reflective set, the pacing is extraordinary. In the first section of the interval-less piece, short, sharp scenes end on the precipice of a bristling conversation, punctuated by urgent bursts of Bach in the blackout. As truth turns to torment, scenes bleed into each other under merciless fluorescent light, scrawling electric guitar replacing the Bach. It's a cruel rush of terrible; too fast, too furious for repair. No wonder you might end up ducking for cover.
Follow David on Twitter: @mrdavidjays