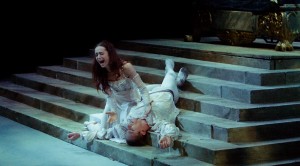 Prokofiev's score for Romeo and Juliet is pitiless in its tragedy, singing with a desperate hope. I mention this, because you'd never have guessed from the flatlining revival that opened the Mariinsky's London season earlier this week.
As Clement Crisp remarks, Romeo and Juliet was created during the siege of Leningrad, a response perhaps to cruel historical forces and to the fragility of individuals seeking to escape their circumstances. Leonid Lavrovsky's production had something urgent to say to its day – I imagine a revival that revisited that original historical moment could make it speak again. But that day has passed, and no one responsible for its latest incarnation seems remotely interested in a living production of a classic that should bubble with urgent vitality.
Instead, opening night at Covent Garden offered cloth pillars wafting limply in the dancers' wake, wigs reeking of embalming fluid, gestures so broad they could command their own postcode. Is this all the Mariinsky thinks of the masterpiece it premiered? Is Romeo really such shallow material that it doesn't deserve a new exploration? Only Diana Vishneva and Vladimir Shklyarov in the title roles brought an ardent curiosity to the stage. Each has limpid arms, unfurling like a sigh, and a poignantly heightened lyricism. In a narrative that drives its protagonists towards death, they were the only living creatures. These committed, fine-grained artists galloped like thoroughbreds while all around people spent an evening dutifully flogging a dead horse. As Monty Python would have it, the ballet was not resting, nor was it pining for the fjords. This is an ex-ballet.
When the Mariinsky caravan trundles into town, ballet's true believers book as many performances of each production as purse and health allow. In theory, I'd be with them – it would have been fascinating to view the second-night cast, showcasing two of the Mariinsky's rare foreign recruits: Hull's finest, Xander Parish, as Romeo, and the emerging Korean star Kimin Kim as Mercutio. Parish's elegant integrity, Kim's unforced panache, would be a treat. But could anyone with any love for performance bear successive helpings of the flea-bitten sham-dram peddled by the Petersburg troupe?
Across the ocean, the Bolshoi recently bounded into New York. It's a sign of that company's artistic retrenchment that it brought a notably conservative repertoire, heavy on the work of Yuri Grigorovitch, the Cold War's signature producer. It seems that his bombastic Spartacus and Swan Lake fell like an iron fist in an iron glove. Under Alexei Ratmansky, the company had a thrilling sense of purpose – as if they knew not only what they were dancing, but why. To Alastair Macaulay, writing in the New York Times, this latest season was a dismaying throwback that sent the Bolshoi 'tumbling back into a pre-1989 nightmare.'
So, the two companies which for many represent the classical gold standard choose to tour shows that seemed less revived than embalmed. Things elsewhere are less gloomy: San Francisco Ballet's generous tasting menu, for example, caused trills of pleasure in Paris.
Among British companies, Birmingham Royal Ballet's classics have a restrained dignity, while Scottish Ballet can take advantage of its less ample forces to look askance at the Petipa works. The previous director, Ashley Page, devised sharp, skewed productions, their colours ripe and queasy, which tackled the fabular strangeness of these stories head-on. The Royal Ballet's core classics are not always heart-racing (a staid Sleeping Beauty and Nutcracker), though its lambent Giselle and fin-de-siècle Swan Lake maintain a properly dramatic pulse.
Tamara Rojo, at English National Ballet, deserves credit for trying to extend her company's repertoire but she has also fallen back on some depthless warhorses – a cheerful airhead of a Coppélia and a vapid Romeo and Juliet. If you're waiting for the Benedict Andrews, Katie Mitchell or Ivo van Hove of the ballet stage – scorched-earth directors who make old plays seem as if they've just arrived in your inbox – you'll be waiting a long time.
If the unexamined life is not worth living, is the unexamined ballet worth dancing? In a theatrical moment when the texts of the past are routinely brought up for scrutiny, no theatre company would settle for the incurious, slack-jawed routine of their ballet equivalents. These artistic directors believe their audiences deserve little more than a bit of bounce and sparkle. It's an insult to their audiences, to their dancers and the works that languish in sheer intellectual inertia. As an artistic strategy? It's bleeding demised.
Main image: Diana Vishneva with Igor Kolb in Romeo and Juliet Photo: (c) Alexander Gouliaev
Follow David: @mrdavidjays