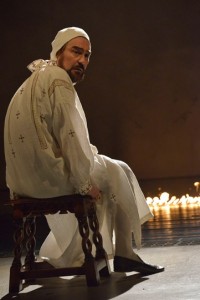 You can't move for gilt and ermine in London theatre. At the annual state opening of Parliament – pantomime for one night only! – poor Elizabeth II must mouth her government's platitudes, but on stage, monarchs get lines that she can only dream of.
King Charles III, Mike Bartlett's beady vision of monarchy future, will soon transfer to the West End, joining Moira Buffini's Handbagged about monarchy present (a splendid slugfest between Queen and Thatcher). The RSC disinters monarchy past in Shakespeare's Henry IV plays (reaching London this winter) and adaptations of Hilary Mantel's prize-winning novels set at Henry VIII's court. In heritage Britain, plays about monarchs are never simply fantasy. Deference to the shiny crown? It's how we still live.
History plays can show the world changing – becoming our own. Elizabethan chronicles staged the death of kings – abdication, usurpation, assassination. Richard II was famously considered incendiary, and the mere choice to have an actor represent a king raises the possibility of recasting. The plays contained subversive potential. Handbagged and King Charles III are new works toying with an archaic social structure. History plays offer critical distance, make change imaginable.
If Elizabethan plays sunder monarchy and divinity, then Mantel's Wolf Hall and Bring Up the Bodies trace the emergence of government by bureaucracy. Nothing is more terrifying than a spreadsheet used with intent. Thomas Cromwell, Henry VIII's right hand, works through the account book and executioner's axe – pointing toward Stalin as well as Capitol Hill. It's alien and modern all at once, as the best historical fiction can be.
King Charles III is that rarity, a history play about the future. Most histories tease us with foreknowledge – we know what must happen but not how we'll think or feel about it. Edward II must die – but who knew we'd despise the culture that does for him? Mother Courage is caught in a war that can mean only slaughter – how will we view her carrion survival instinct? And Henry V will triumph at Agincourt – so why might we feel dread before battle, or unease in his victory?
The RSC's Mantel adaptations play similar games, especially if Holbein's indelible images hover in your head. Nathaniel Parker's Henry VIII thrums with vigorous glamour, but the bloated silhouette of middle age will claim him. Ben Miles' Cromwell may be sympathetic(ish) but the grim jowl and piggy eyes of the official henchman lurk (Mantel has a great episode about Holbein's portrait which, Cromwell complains, makes him look like a murderer. Cue tactful silence). The executioner's swing, like destiny's stroke, bides its time even as Anne Boleyn is in her pomp and Cromwell clambers to prominence.
Is this why history plays can seem conservative? If the end is known, what is there to play for? Why bother imagining a doomed revolution? This tension is nicely deployed by Bartlett in King Charles III, for the only character with a reforming agenda – of a kind – is the meddling monarch who should keep his privileged paws off our laws, but who is also the only character asserting the imperatives of free speech. Attempts to declaw a turbulent monarchy are made by younger royals who recognise the brand value of impassive throwback nostalgia.
Speaking of throwback nostalgia… The RSC's Mantel offers a six-hour whirl of plush, sober frockage. Mike Poulton adapts the plot with dogged clarity, but does he even begin to adapt the novel? Cromwell's consciousness is a glory of contemporary fiction. It occupies a continuous third-person present – we stand beside him but see through his eyes. He assesses the world through his own unsentimental gaze, and we watch him through Mantel's equally unflinching focus. The novelist has given the project her blessing, but her unique voice – a forceful, disillusioned reflection – is never heard.
It's unfair to ask any play to offer identical pleasures to its source. But is it also unfair to suggest that, if you're going to adapt something brilliant, you could be a tiny bit brilliant yourself? Poulton's craftsmanship is strictly flat-pack. The plays' four-square construction contains no surprises. Cardinal Wolsey's ghost periodically drops by for a chat, but Cromwell has no soliloquy to reel us in with complicity, let alone more daring games with time, space or form. It's all giggling court ladies and staunch chaps harrumphing about the succession.
From my perch in the very back row, I missed any subtleties – anything could have been going on under those caps. At a distance you depend on voices (beefy) and bodies (always in motion – Henry's court was a terrified swirl of postman's knock). In Jeremy Herrin's restless production, Cromwell seems less engineer of the action than its reluctant victim – each time he resolves to leave the stage to visit someone, they arrive.
James Wood's lovely critique of Mantel says her novels 'make the stories fragile again, with everything at suspenseful risk.' She knows, he says, 'that novelists are creators, not coroners, of the human case.' Playwrights too and, given half a chance, actors. Mantel's novels are borne by thought, and thought can be dangerous. Shakespeare's histories shove old-new imaginations (Falstaff, Richard III) into time-stained stories. That's what history can do on stage – or, of course, it can comfort you with pageants.
Follow David on Twitter at @mrdavidjays