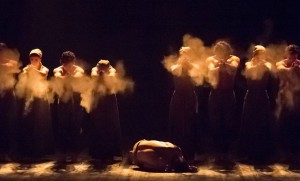 How do you stage warfare? In a year commemorating the centenary of the First World War, the conflict resists direct dramatisation. Naturalism struggles to capture the scale, and bathos might demean the dead. Dance embodied yet abstract vocabulary, a wordless form offers an opportunity to articulate the unspeakable. The choreographers in Lest We Forget, English National Ballet's profoundly wrought programme at London's Barbican, have thought seriously about what and how to represent the war – and in particular how to use the women who dominate a classical company. These are works of innocence eroded by experience. A male military company is an uneasy fit for the female corps de ballet. The record so much reflects male experience: in the trenches, but also in government. 37 Days, the nuanced BBC drama charting the path to war, was wall-to-wall moustache. Peter Gill's play Versailles, now ending its run at the Donmar Warehouse, inhabits the war's immediate aftermath, where women passionately debate loss and reparation while the conference rooms are male enclaves of decision-making.
What can women be in this story? Kenneth MacMillan's ballet Gloria (1980, revived at Covent Garden in February) was inspired by Vera Brittain's memoir Testament of Youth, which described the blinkered patriotism that drove young men to war. She herself worked as a nurse during the conflict, and MacMillan's silvered women suggest angels of grace around the battlefield, or shades of carefree days receding into memory.
Other accounts suggest woman as beacon, nurse and worker – and also as scourge of those reluctant to enlist, urging and shaming them. This complex mesh of associations pervades Akram Khan's Dust, an astounding work which closes the ENB programme. The women's scything arms, stabbing like as blades, are directed both inwards and outwards – an astringent image of fervour, complicity and bereavement.
Jocelyn Pook's score includes a crackle-bound wartime recording of a trench song ('We're here because we're here because'), with its awful circularity and gruesome jocular resolve. Khan himself appears as a faltering casualty, in a theatre of war framed with heat and dust rather than the familiar muddy chill. No other conflict has produced such searing accounts of physical death and injury, and Khan offers a powerfully embodied image, as he is upended, revolving on his own shaven scalp. Such a particular section of the body – skin chafing against bone – registers in the spectator's mind, evoked later in the piece as Khan and Tamara Rojo rub scalps, skull to skull. Khan repeatedly makes the body seem strange – having the women join hands to create a serpentine cable, pulsing outwards from Khan at their centre. In their duet, Rojo hurls herself at him, wrapping her legs round his waist so tight they disappear from view, while she leans back, apparently unsupported. He clamps a hand over her mouth – this is contact as compulsion and repulsion.
In Second Breath, Russell Maliphant doesn't distinguish the sexes. His nine couples dress alike: they're all cannon fodder, falling and falling again in the murky churn of Michael Hulls' lighting. Despite a climactic duet for Alina Cojocaru and Junior Souza, individual losses register most tellingly in Andy Cowan's soundscore: Maliphant uses bodies for sculptural effect.
Liam Scarlett offers a more histrionic vocabulary in his co-production with Queensland Ballet, with silent howls of anguish and a clamorous score from Liszt's Harmonies poétiques et religieuses. As its title suggests, No Man's Land dramatises a distance – though not that between opposing forces but between troops and the women they leave behind. Scarlett proposes an unsettling psychodrama, both in duets of flurried, rapid lifts and in an early sequence when women clutch their men from behind, sliding arms in sickly-yellow gloves up their torsos like the straps of a knapsack. The departing soldiers are both embraced and burdened. When the women are shown packing explosives in a munitions factory, the yellowed hands are revealed as a chemical stain (they were known as 'canaries'), and there's a toxic ambiguity in the way they send not loveletters but bullets to the front.
There is dance to be made about the painful drama of waiting, especially in such terrible circumstances. Christopher Marney's War Letters for Ballet Black last year, set in World War Two, tapped notes of painful confusion as couples lost sight of each other in absence and in reunion (although the work was diluted by reassuring swingtime dances). Rojo's brave suite of commissions – the most focused and inspired of any British ballet company for a long time – treat their subject matter with impassioned imagination and profound respect, and suggest that the ambiguities of female experience involve far more than merely keeping the home fires burning.
Follow David on Twitter: @mrdavidjays