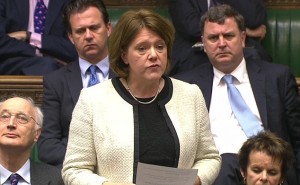 An actor looking to real life to research their next apology face might be disconcerted by Maria Miller. On Thursday, the UK government Culture Secretary was forced to make a public apology in the House of Commons for having (technical term) diddled her expenses. She could have wept with sorrow for misdeeds rightly punished; blushed because she'd been censored for having obstructed the inquiry; punched the air because the recommendation that she repay the almost £44,000 she had overclaimed was downgraded to just £5800.
Conditions were set for high drama. Miller's costume was pleasingly symbolic, the black dress of calumny mantled by a snowy white jacket of absolution. Her fellow Conservatives were raring to play chorus, scooting to surround her as she rose to speak so that the cameras would find her amid a phalanx of supportive suits.
31 seconds later, she was done. Her voice had remained level, her cheek unblushed, her regulation pearls untwirled. Instead, she went for blank and aggrieved, like a vending machine with a headache. Sir George Younger, sitting beside her, gazed serenely upwards, as if relishing a particularly sublime flute sonata, yet Miller's provokingly expressionless tone was stroppy teenager (Miller might have accessorised it with eye roll, but time was short).
The reviews are in, and they haven't been kind. Quentin Letts, both parliamentary sketch writer and theatre critic for the Daily Mail, complained that she had finished before he could uncap his pen. John Crace found it less of an apology, more of a 'whatever.' The call for her to resign, be sacked, or at least learn how to fake remorse grows.
As Culture Secretary – a post for which enthusiasm for the arts is regarded with suspicion – Miller's culture-sceptic credentials have been noted. 'Have just seen picture of Maria Miller in what appears to be a theatre,' tweeted the critic Fiona Mountford recently. 'It must have been photoshopped.'
So Miller may not have seen much of drama's attempts to portray contrition. In fact, surprisingly few classic heroes stoop to public apology. Sorry is for weaklings: Iago is hauled off unrepentant for the havoc he has wrought, while doddery Lear weeps remorse to his scorned Cordelia. Miller may not possess the necessary constitution for contrition so should probably avoid extreme apology – like Leontes' 16 years of self-abasement in The Winter's Tale or Phèdre's suicide, let alone Oedipus' blood-curdling scream when acknowledging incest and patricide (Laurence Olivier claimed his howl was based on an ermine whose tongue was ripped from the frozen ice).
If only we had followed Miller into her office (ignoring the aides making threatening phone calls) or her home (unless her parents are back, contravening the expenses rules). For theatre tells us is that remorse strikes privately, when the culpable soul is alone. Guilt unacknowledged sneaks in to bite you. Even hardened wrongdoers, like the poison-happy cardinal in The Duchess of Malfi, may experience guilt as an unnameable, inexplicable hallucination:
When I look into the fishponds in my garden
Methinks I see a thing, armed with a rake,
That seems to strike at me.
Others may break out into excessive bonhomie, like back-slapping Joe Keller in All My Sons, or follow Blanche DuBois by cowering at the accusing glare ('don't turn on the lights!'). Her department could facilitate meetings with architects, if she preferred to bury her guilt beneath one of Ibsen's monuments to denial: like the Captain Alving Memorial Orphanage or master builder's tower.
Miller made herself unreadable in the Commons. I'm not saying that Miller isn't an idiot – but if she isn't, she must know how shoddy her contrition sounded. In which case, the character she most resembles is Andrei in Three Sisters: he's the disappointing brother who at the end of a long, fraught night confronts his sisters in a bluster of self-justification: about his miserable marriage ('Natasha is an outstanding woman'), his pettifogging job ('a service just as sacred, just as elevated, as any I could render to science') and – look, Maria! – his dodgy way with a mortgage. His fog of excuses melts abruptly into tears. 'My dear sisters, my own dear sisters,' he sobs, 'don't believe me, don't trust me.' And then he simply leaves.
Follow David at @mrdavidjays