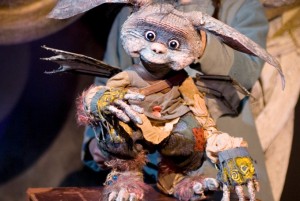 Is there a tougher crowd in the world than a roomful of toddlers on a Sunday morning? So, this happened. A shipwrecked girl has crawled from the waves, and nervously approaches the cave of a weird, rabbitty scavenging creature. It's a tense moment. My nephew has a question. 'Will she have a dinosaur with her?' he asks. He seems disappointed when his mother whispers that, no, there's no dino.
Excited, vocal, unimpressible: the under fives pull no punches. Not for them the self-satisfied snicker at a literary allusion in a Stoppard play; or the ripple of admiration when a beloved performer smarms onto the stage. They're entertained, or they're not. Or they're entertained and they're not – it's an unpredictable, nano-by-nanosecond mosaic, where boredom jostles compulsion, and enthralled sits on repulsion's knee.
We were watching a children's opera called Skitterbang Island at London's revered Little Angel Theatre. It's a box of puppety wonders, that theatre, beautifully fashioned for the miniature playgoer. Aisle seats are reserved for children, to guarantee an uninterrupted view (no beanpole myself, I've often longed for all theatres to adopt a big-ones-at-the-back policy). Ushers address children rather than their parents – my elder nephew loved being given custody of the tickets. Everything is done to make theatregoing seem a normal pleasure, weaving a visit into everyday life – a treat, but not an outlandish one-off.
Skitterbang Island is certainly a visual delight (design by Laura McEwen; puppets by Sue Dacre). Skitterbang himself (pictured top), foraging everything thrown up by the ocean, is a wonderful creation that looks scavenged himself – rabbit ears, little wings, long knobbly fingers. The prop team have done some inspired rummaging too, compiling his jangling hoard. But the piece by Phil Porter and Martin Ward didn't quite transport us. Opera can be (whisper it) hard work, and despite strands of poignant melody threading through this story of losing and finding on a snow-bound island, there's nothing very rousing. At this performance for families with especially young 'uns, the two singers looked slightly alarmed at the wall of tot-brewed noise that faced them: there's no reverent hush here.
Did our lot have fun? We certainly didn't hate it, though it couldn't offer the sheer delight of our previous visit, to Dogs Don't Do Ballet (spoiler alert: they bloody do. Especially when a ballerina falls into a tuba, and someone has to save the day). On the other hand, one of us is easily scared (actually, make that two of us: knowing that something gratuitously terrible is about to happen can often make me physically agitated), and Skitterbang Island didn't alarm.
But you know what? I like the idea that my nephews can see something not brain-poppingly wonderful and yet come back for more. Theatre as consumption is a disaster: in an age of star ratings, when anything less than four sparklers is dismissed as beneath attention; with theatre-owners doing their damnedest to price out regular theatregoing in favour of a special-occasion splurge. Knowing that theatre-going can offer the same joys and perplexities as any other activity – that it can be miraculous, and sometimes meh, and occasionally a mess – that's a lesson worth learning on a Sunday morning. Also: any play can be improved by a dinosaur. Am I right?
Follow David on Twitter: @mrdavidjays