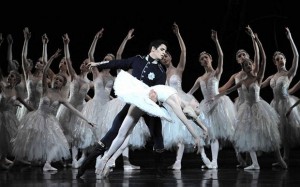 There's nothing like holding a gun to a swan to ruffle a balletgoer's feathers. It's hardly on the scale of Black Swan, but at Dance Gazette, the Royal Academy of Dance magazine, we caused a kerfuffle with 'Keep, Rescue, Retire' – a feature that invited leading international artistic directors to consider the state of the ballet repertoire. They all agreed it was too narrow – the victim of patchy historical notation, financial pressures and an audience that, as Christopher Hampson of Scottish Ballet nicely put it, still demands the family silver.
The headline suggestions for adding oxygen to the museum-grade air that preserves classical ballet came from Hampson (Swan Lake should be semi-retired 'so that companies have more room to produce new works'), and from Assis Carreiro of the Royal Ballet of Flanders, who proposed a radical five-year moratorium on the big Tchaikovsky ballets (Swan Lake, Nutcracker, Sleeping Beauty), in favour of original creations and neglected wonders.
Feathers were ruffled, tulle was torn, chiffon shuddered in distress. When the RAD posted a piece titled 'Swan Lake must die', many comments on their website and Facebook were basically a cry of anguish. Our Twitter hashtag #KeepRescueRetire provoked a similar flurry. Balletomanes undoubtedly love their swans and sweeties, and resent their removal.
For me, the most telling suggestion came from Tamara Rojo, English National Ballet's sparky artistic director. She argued:
I don't think we should lose any of our repertoire. In fact, I would like the approach to be more like opera or theatre, where the repertoire is consistently revived with a new vision and artistic direction that, sometimes, makes works wonderfully relevant and new.
This is the most radical suggestion of all. It's not ballet's constrained menu of classics that is the problem, but the tameness with which it approaches them. The ideal seems to be a seaworthy show that will sail for decades, needing only the odd titivation of wig and tweak of lights to stay afloat. Take our own Royal Ballet and its venerable productions of core rep (Peter Wright's beautiful Giselle from 1985 and Nutcracker from 1984; Anthony Dowell's 1987 Swan Lake; The Sleeping Beauty, a dowdy 2006 reboot of a 1946 production).
What is creative about clinging to a production created by a previous generation? Especially creative new dancers might revivify it – Natalia Osipova's white-heat sense of risk is currently doing this at Covent Garden – but most dancers are settling into their parents' houses rather than helping build one of their own.
During the past 30 years, the Royal Shakespeare Company has produced nine versions of Hamlet and of As You Like It. There have even been multiple versions of relative rarities like Love's Labour's Lost, the Henry VI plays and King John. Inevitably, not all have worked – but all have attempted to make the plays live in the present, rather than in a museum vitrine. They can take risks with setting, casting, text and interpretation, because they're not having the final world, or aiming for something tamely acceptable that will be just as resonant – or equally non-resonant – in three decades' time.
Two examples, and then I'm out of here. Gregory Doran began his tenure as RSC artistic director with Richard II last September. Much attention focused on the charismatic star, David Tennant, playing the title role with an abundant wig and carefully withheld sympathy. In an uneven production, Doran's most daring intervention was to extend the strings of loyalty and obligation around a minor character, Aumerle (Oliver Rix).
The king's politically-torn cousin, he successively supports his deposition, attempts a coup, signs up to the new regime. Doran pushed that dynamic when he had Aumerle and his forlorn cousin exchange an unexpected kiss (Tennant throughout suggested the king's isolation had made him inept with intimacy; he could only do lofty distance or intrusive immediacy). And, once Aumerle had buckled to the usurper Bolingbroke, Doran made him play assassin in the final scene, instead of the text's Exton. The act became a vicious test of political loyalty, an anguished personal betrayal, and those themes crackled to dangerous life.
Some spectators hated it – but so what? This wasn't the last word on Shakespeare's play, so what's the harm in finding ways to point up the ideas, make them live for this cast, this creative team, this audience in 2013?
The last example is also Shakespearean: Macbeth. I saw three productions last year, two of them within 24 hours of each other. They were all very different: one post-apocalyptic, one mired in thick darkness and antique mud, another exposed to the bright evening sun at Shakespeare's Globe. Each Macbeth came differently unhinged, had a different relationship (protective, protected, poisoned) with his wife. Each trudged in his own way through atrocity to oblivion. I wouldn't want to see any one of them repeatedly for the next 20 years, but I don't have to. None was definitive, but each was alive.
So why can't ballet do that? Create a Giselle for today rather than tomorrow, or yesterday? Make it worth staying awake through The Sleeping Beauty? If the answer is money, that's depressing. If it's audience resistance, that's truly dismaying. Refreshing the core repertoire has nothing to do with modern dress stunts or half-assed relevance, but everything to do with thinking anew, at long last.
Opening picture is Federico Bonelli and Sarah Lamb in Swan Lake at the Royal Ballet Photo: Alastair Muir for the Daily Telegraph
Follow David at @mrdavidjays