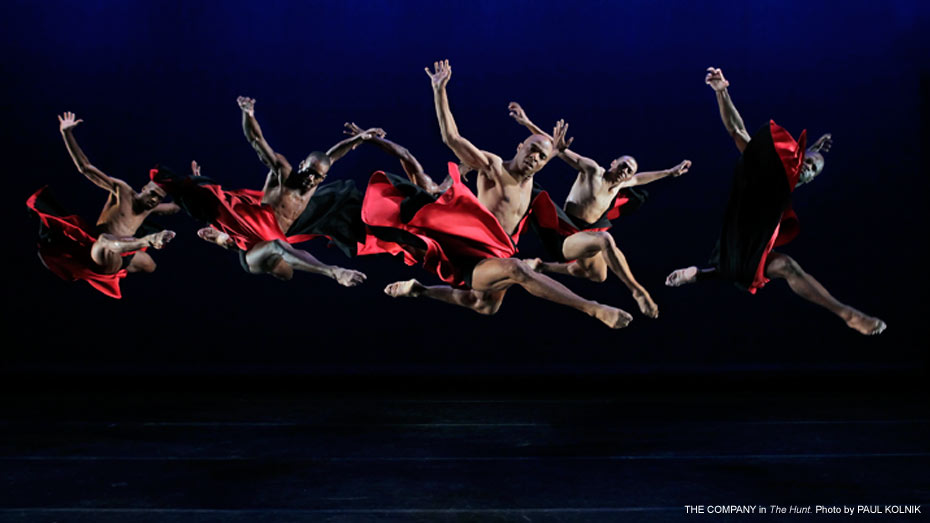 How to institutionalize the extraordinary? There is a lesson to be learned from the amazing success and vitality of the Alvin Ailey American Dance Theater, now in its 53rd year. Their current tour is packed with choreography to inspire and dancers to full-on worship.
I reviewed Alvin Ailey American Dance Theater for the Seattle Times.
The next day, I had the privilege to interview 5 dancers, and artistic director designate Robert Battle, for the the Sunday LA Times:
'The Hunt' is on for Alvin Ailey Dance Theater
There is a lot of foot rubbing and neck rolling in the room when you hang out with five men from Alvin Ailey American Dance Theater on a morning after they've performed "The Hunt." The furious and powerful ensemble work serves as the main calling card for Robert Battle, artistic director designate, on Ailey's North American tour. Battle, who takes leadership of the company in July, set his all-male work to a pounding percussion score by Les Tambours du Bronx, with raw, exotic fight scenes inspired by Battle's boyhood martial arts devotion.
"There's a lot of jumping and slapping and slamming," says veteran Ailey dancer Matthew Rushing (and newly named company rehearsal director). Some of Battle's directives included: "Always being on the prowl, feeling like you're predatory, always showing strength. At times he gave us images of almost being in a rave club, letting loose and going wild and not caring about technique or form — just throwing out energy."
"I feel like it's a thriller," Antonio Douthit says. "It's like being dropped in the Congo and all five of us are just trying to get out of there."
Rushing describes "a certain kind of emotional stamina" it demands from the dancers. "A lot of the times it feels like you are in a fight, you're fighting to get through, and then there's moments where you may be really pepped up, or really connected to the music, or connected with another dancer onstage, and then there's moments where you're just gagging…. From night to night the ballet means different things to you, and you feel different things within it."
"It's a test of everything," Jamar Roberts says. "It usually hurts for about three to four days afterwards."
"Yes and no," says Kirven Boyd. "The piece, obviously, is really physical. But I think a lot of it — like when we're slapping — looks way more physical than it is."
"Oh, no, it's physical!" Douthit responds. "When you slap me that hard?"
Boyd laughs. "I don't hit you that hard."
Change is difficult, and if you're a company with audiences as emotionally involved as the hordes who flock to see Alvin Ailey, you take a careful, creative approach when introducing a major transfer of artistic rule. Though it's still three months before Battle takes the reins of Ailey from the legendaryJudith Jamison, his succession — directly and indirectly — is obviously a central factor on the company's 24-city tour, which includes 10 performances at the Dorothy Chandler Pavilion.
The repertory has two pivot points: a celebration of continuity (in honor of the 50th anniversary of Ailey's "Revelations," the troupe is performing the beloved ballet every night) and an introduction to Battle as choreographer through two works (the company premiere of "The Hunt" and the rousing triptych "Love Stories," featuring choreography by Jamison, Battle and Rennie Harris).
This strategic planning is a luxury the company didn't have in 1989 when Ailey, then 58, asked Jamison to assume leadership of the wobbling company during his critical illness. Still, that transition was smoothed for audiences by Jamison's familiarity — among her many roles she was the 6-foot goddess carrying the white parasol in "Revelations" and the struggling, enduring soloist in Ailey's wrenching "Cry." Battle, 37, is a Miami native who moved to New York and graduated Juilliard in 1994, then danced for the David Parsons Project for seven years, and then founded his own troupe, Battleworks Dance Company in 2001, before being selected last May to run Ailey. Battle, who calls himself an "extended family member" of the troupe, has been affiliated with the school as a student, teacher and choreographer since 1999. Over the years, he has choreographed 11 works for Alvin Ailey American Dance Theater, including for its school and junior company, Ailey II.
Audiences don't know him, however. The company is remedying this by representing Battle onstage during this tour. On the program titled "21st Century Ailey" (to be seen four times in L.A.), Christopher L. Huggins' new ballet, "Anointed," uses standout solo performers to symbolize the succession from Ailey to Jamison to Battle. The lightning-fast pure-dance ensemble piece also deftly assures Ailey dancers' unflagging superiority in expressing speed, ballon, fluidity, strength, balance and partnering technique.
For the dancers, it was clear that Battle's "arrival," despite any onstage portrayal in "Anointed," is still a long way off. "Too soon to tell," several dancers chimed at once. Battle himself, who popped in for the photo shoot and to answer a few questions, also confirmed his non-influence on day-to-day company matters "until July 1."
Most of these dancers know Battle only briefly (he taught them "The Hunt" in just three days last summer), although Boyd worked with Battle's former company, Battleworks, for a season. "There was something very nurturing about him in the studio," Boyd says. "You could tell that everyone in that room was there because he wanted them to be there. There was just so much love in the room, you didn't really care that you were asked to spin on your head and then back flip to your knees."
With a $29-million annual budget, a flashy midtown home in New York, and an average of nine months a year of annual touring, Alvin Ailey American Dance Theater is more like a transitioning couture house these days than a modern dance company. And Jamison's influence on the empire is ever-present, from her powerful education initiatives (including initiating a bachelor of fine arts degree in dance in conjunction with Fordham University) to her intense work ethic.
"She has this gift of setting a standard — and then you work your tail off to meet the standard — and then she raises the standard once you get there" Rushing says. "It can be so irritating sometimes, but then, once you go through the journey you look back and see how much you've grown, because of the continual raising of the bar…. And it becomes contagious throughout the company … you look around and there's all these people doing far and beyond what's asked of them….And all of that, I feel, trickles down from the top."
Battle agrees. "Miss Jamison's not just large in stature but in vision," he says. "But what gives me great confidence is that she chose me, and I know that that was not a small decision, and I'm happy that it's a big job. 'Cause I'm a big guy, and I like a challenge. Coming from Liberty City to Juilliard was not a small move, and I feel that I've always been guided in one way or another. So I believe I'm here because I have something to contribute and in time it will all be realized."
As the interview ends and the dancers start to file out to class or food or rehearsals, Battle smiles and nods to each one.
Battle acknowledges how possessive Ailey audiences are, and that there's sure to be curiosity about why he himself never danced with the company. "As a choreographer, I was part of that extended family," he says. "That was my journey." And his description of his dancing career sounds to be embedded in his choreography and thus visible to audiences always. "As a dancer," Battle says, "I had more of an affinity for moving fluidly, more in Lar Lubovitch tradition. We call it 'flow and glow.'" When he got to the Parsons company, he explains, the movement style was "much more punchy, the physicality was much more robust." The Graham technique that he studied at the Ailey school "connected directly to the martial arts," he says. Looking at "The Hunt" today, he says, "I can see all those influences."
Battle has plans to continue choreographing regularly along with his directorship duties. But for now, he's just enjoying the success of "The Hunt."
"I've seen many audiences jump up and scream for the work," he says, "and I love that fact. I love that it has that connection as well as the aggression. Sometimes those things don't go hand in hand."