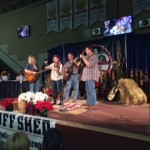 The annual National Western Stock Show is happening in Denver right now.
I ambled through the show grounds on Saturday for the first time marveling at the rows of placid livestock, the myriad booths selling everything from bandanas to sceptic tanks, and the hoards of people dressed in western drag.
Eventually, after wandering through an orderly meeting of unfazed alpaca, I stumbled upon the Colorado Fiddle Championships where I spent an hour, transfixed.
The Junior Division of the competition had just gotten underway when I arrived. I watched eight or nine children aged between 13 and 16 playing music for about an hour. Their efforts had a strange effect on me. On the one hand, their remarkable technical skills made me want to get up and swing someone around, or better still, be swung. On the other, their mode of presentation made me feel a little sadistic for sitting there watching them.
Each contestant had to perform three standard tunes: a fast reel, a slower waltz and a piece of their choosing, which in every case was something upbeat and slightly more embellished.
I was fascinated by the business-like way in which each performer got up on stage, surrounded by two or three adult accompanists on guitar, and matter-of-factly played the three pieces. There was very little attempt on the part of any of the performers to communicate with or even acknowledge the large audience sitting before them. It was strange.
I was waiting for someone to crack a smile, or bow or say something — anything! — into the mike. I would have settled for even the smallest hint that the young people on stage with the serious fiddle chops were human and not machine.
But with the exception of one endearing little boy who took a large, comically-visible, calming breath before, between and after each tune, and a little girl who mumbled thank you at the end of her set, there was little sign of life up there.
I guess the kids were very nervous. I know I would be trembling in their shoes. But I've seen children of their age and much younger tackle competitive performances of different kinds — ballet, theatre, rock music, classical music etc — with at least some visible emotion.
What this competition illustrated so palpably is how palpably a successful performance goes way beyond technical prowess. Humanization is key.
There's nothing in the rulebook of the Colorado Fiddle Championships that says that the contestants are not allowed to smile or otherwise show their personalities.
Maybe it's a cultural thing. I'm still so new to the wild, wild west. Here, perhaps, in fiddling as in animal husbandry, folks prefer to display a thousand yard stare.