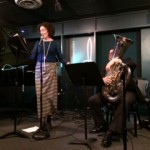 A great new, monthly classical music series launched this week at Denver's most prominent jazz club, Dazzle.
The series invites comparisons to the classical programming at Le Poisson Rouge in New York. But the Denver series so far has a different vibe to that of the New York venue. It's more intimate and judging by the repertoire plans for the coming months, looks to be predominantly focused on 20th century music.
What was great about the inaugural concert was the high talent of the performers (many of whom play with the Colorado Symphony) and the adventurous nature of the programming. I was introduced to several 20th century composers whose work I had never encountered before as well as a slew of local talent.
Among the musical delights were Stravinsky's Fanfare for Two Trumpets (1964) a boisterous little piece which sounds like two brothers squabbling and making up in the space of 60 seconds, Jean Francaix's jaunty Quartet for English Horn and Strings (1971), and short experimental works for solo clarinet, solo bassoon and solo double bass by, respectively, Isang Yun, William Osborne and Tom Johnson.
But the evening's eccentricity award went to a galumphing song cycle by Rodger Vaughn for soprano voice and tuba. I found the piece to be a bit twee and gimmicky. Yet in as much as works for this combination of instruments are rarely written and even more rarely performed, I was glad to be in its company for 10 minutes if only for the novelty value.
The only truly "Classical" item on this classical music series program was a performance of the 3rd movement of Beethoven's Piano sonata No 17 in C minor. But even this standard bit of repertoire came with a twist – the work was fastidiously performed by Ashia Ajani, an earnest 16-year-old student at Denver's East High School. The organizer of the series, James Bailey, aims to include a performance by a young musician in many of the series' concerts. This is an excellent idea.
The cabaret-style atmosphere of Dazzle, with its low ceilings and solicitous waiters is perfectly suited to chamber music. My taste buds, eyes and ears were all engaged.
In a space like Dazzle, the music and audience need to breathe, perhaps more than in a conventional concert hall or church setting. I wanted a little interstitial downtime to just soak up the atmosphere and chat with my neighbor about the strangeness and beauty of what we just heard. So while I enjoyed the brief introductions that some of the musicians gave from the stage, I could have done with less program-note pontificating from Bailey between each act.
The lineup for the coming months looks fierce. I'll be back for more.
Here's what's on:
January 7: A program of French quartets featuring Claude Debussy's string quartet, two works for saxophone quartet by Max Dubois and Eugene Bozza, and Olivier Messiaen's Quartet for the End of Time. Performers include the Denver School of the Arts Student Quartet and the Lamont Saxophone Quartet.
February 4: Piano works by Eric Satie performed by Andrew Lee.
March 4: Pierrot Lunaire by Arnold Scheonberg performed by the Playground Ensemble.
April 8: Arias of "sex, betrayal and revenge" performed by artists from the Denver chapter of Opera On Tap. Opera on Tap is a national network of classically trained singers who perform works from the operatic cannon in bars.
May 7: A world premiere by Colorado Symphony percussionist William Hill, Hout by Louis Andriessen and a piece by Vineet Shende – Throw Down or Shut Up – which will be performed by the University of Colorado Faculty New Music Ensemble.