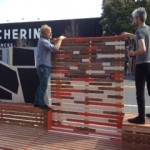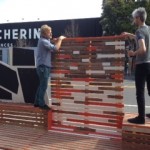 It's amazing what a difference a dedicated environment makes to the street performance experience.
When a performer stands on a street corner juggling or singing songs, most people simply walk by, unless the performance is happening in a place that's specially sanctioned for street performance e.g. specific areas of Covent Garden Market in London or Fisherman's Wharf in San Francisco.
But if there's a space that's specially dedicated to street performance, it suddenly takes on a different dimension in the eyes of the public. Some people still walk past. But many more recognize that something out of the ordinary is taking place and they're more inclined to gather around to watch.
Such was palpably the case yesterday, when VoiceBox partnered with Street Stage to create a pop-up music experience in the heart of San Francisco's Mission District. VoiceBox is the weekly public radio and podcast series about the human voice that I host and produce under the auspices of KALW in San Francisco. Street Stage, the brainchild of urban planners / landscape architects Ross Hansen and John Matthew Francis is a wooden, mobile stage which comes out of the back of a flatbed truck and can be assembled in about 30 minutes.
With the blessings of a few local businesses on a particularly highly-trafficked section of Valencia Street, we set up the stage yesterday morning and presented a curated program of vocal artists between noon and four in the afternoon. The eclectic musical lineup included Tall Heights, Jimmy Kansau, The New Thoreaus, The Conspiracy of Beards and Caitlin Lacey and the Twin-Not-Twins.
What was interesting to watch as the time went on was how people lingered and gathered around the stage. Instead of walking by (though some people did), large numbers stuck around, put tips in guitar cases, signed mailing lists, picked up fliers, and bought CDs. The level of engagement was truly exciting to see. The performers, some of whom had a background in street music, and some of whom didn't, all seemed super happy to be out on a sunny day performing on the Street Stage.
The platform itself seems to have this galvanizing effect on the performance environment. The wooden structure is kind of like the perfect member of an ensemble cast: It draws attention to itself (even before there was anyone playing and singing on it, people stopped to look at it and ask questions) while at the same time supporting rather than upstaging the artists who tread its boards.
We documented the event on video and audio for VoiceBox. The program will launch on March 29. Visit our website for more information.