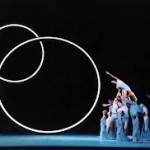 Vaslav Nijinsky was in many ways an outsider. The famous Russian dancer's Polish roots, slightly Asiatic looks and  upbringing in a family of itinerant dancers made him a source of disdain among his peers as a boy.
In adult life, though the centerpiece of Serge Diaghilev's world famous Ballet Russes and adored by his public, the dancer's sexual orientation and mental instability made it impossible for him to lead a "normal" life.
The outsider nature of Nijisnky's life is the focus of Hamburg Ballet director John Neumeier's powerful work about the dancer which is currently here in the Bay Area as part of the San Francisco Ballet's season.
The Hamburg Ballet's energetic yet sensitive company inhabits the psychological playground in which the work is set with brilliant acting and angular-muscular dancing that's full of vulnerability.
The frame for the narrative is Nijinsky's final public appearance as a dancer in January 1919 in a St. Moritz Switzerland hotel ballroom. From this point onwards, the dancer, falls ever deeper into a state of despair as events and characters from his life and work inhabit his fevered mind.
Nijinsky's outsider status is made clear from the opening moments when the dancer performs a high-strung, frenetic solo to Chopin's Prelude No. 20, the Polish music signifying the un-Russianness of the dancer.
In that scene, as in almost every subsequent section, there is at least one character on stage watching the action.  In the opening scene, the observers are the hotel guests and members of Nijinsky's entourage. Later on, Diaghilev sits in a chair quietly watching Nijinsky. Towards the end, the protagonist himself, having lost his mind, sits down, a crumpled mess. The idea of watching something or someone from the outside makes the idea of Nijinsky's lack of belonging seem extremely palpable and sad.
Speaking of outsider feelings: I've been listening to baritone Thomas Meglioranza and pianist Reiko Uchida's heart-achingly beautiful new recording of Schubert's Winterreise song cycle. Meglioranza's voice is like The Hamburg Ballet ensemble's dancing — it's warmth channels feelings of loss and loneliness.