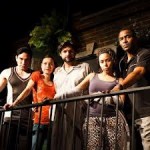 Pictured left: The cast of The Motherf**ker with the Hat (San Francisco Playhouse's **, not mine).
I saw the show on opening night on Saturday and once again I marveled at the company's amazing ability to create a sense of occasion, even when the play around which the occasion is being sensed lacks merit.
An evening spent at the new San Francisco Jazz Center on Friday experiencing a program of Gershwin numbers brought to life by four marvelous local jazz singers backed up by The Marcus Shelby Jazz Quartet was more artistically inspiring. SFJAZZ is still in the throes of its opening celebrations, but somehow, there was less pizzazz to the affair than that which accompanied the soiree at SF Playhouse.
The contrast between the two experiences has got me thinking about how important creating a sense of occasion is to an arts organization and the extent to which this feeling can be produced both during a show and around it.
SF Playhouse has produced four of Stephen Adly Guirgis's dramas to date. This one, which follows the mostly self-sabotaging trajectories of a bunch of addicts and recovering addicts, is by far the most facile. Helmed by Gabriel Marin as a loutish yet lovable young alcoholic with anger issues trying hard to pull his life together, the  cast is strong yet prone to over acting. The sitcommy nature of the play, with its zingy one-liners and bravura plot turns, might be the cause of this.
Still, SF Playhouse knows how to throw a party. I always love stepping into this company's world. The directors, Bill English and Susi Damilano, have a way of making every person feel welcome. The crowd is pretty diverse for a downtown theatre audience. And I think SF Playhouse is one of the very few theatres in town — it might be the only one — where cocktail dresses and suits don't seem out of place, suggesting that the theatre's audience is happily complicit in making the experience of going to see an opening night there feel important.
Over at the SF Jazz Center, the crowd was, surprisingly, whiter and older. But the room hopped thanks to the subtle and streamlined playing of Marcus Shelby's brilliant cohort and the showmanship of vocalists Paula West, Dan Hicks, Jamie Davis and Kim Nalley. These singers all brought very different colors and styles to the Gershwin's well-known cannon. I loved Hicks' trademark incorporation of yodeling and Nalley's a cappella version of "Summertime," which rounded out the show.
SF JAZZ and SF Playhouse are of course two very different kinds of arts organizations producing two very different kinds of art. But I think there's something that they could learn from each other based on the two experiences I had this past weekend.
The most  important thing, of course, is that the audience should feel engaged with the art. This happened for me at SFJAZZ but not at SF Playhouse this time around.
But there's definitely something to be said for making your audience feel like they've entered an exciting new realm from the moment they step through the door. SF Playhouse is very good at doing this. SFJAZZ may well also find a way to make this possible, especially once the convivial cafe is open for business. I'm looking forward to attending more shows there and finding out.