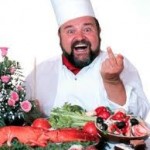 A few days ago, I overheard a conversation between a guy who works at a swanky restaurant in Hayes Valley — let's call him Jordan — and some of his friends.
Hayes Valley is a central neighborhood in San Francisco where many of the big performing arts institutions and venues are located, including the San Francisco Opera, the San Francisco Symphony, The Herbst Theatre, The San Francisco Conservatory of Music, The San Francisco Jazz Center and the San Francisco Ballet.
It's also where some of the city's best restaurants are to be found.
Jordan was commending the new Jazz Center, which opened just last week, for its generosity to his restaurant's employees.  "They said we were welcome to come and see shows there anytime," he said. This seems like friendly behavior from the new kid on the block, especially since the Jazz Center is about to open its own cafe with a revolving cast of esteemed chefs.
Jordan's appreciation for the local arts scene then turned sour.
He said that unlike the Jazz Center, the other arts institutions in the neighborhood had made no attempt over the years to ingratiate themselves to his restaurant. "We stay open sometimes well into the middle of the night so that the people from the Opera, Ballet and Symphony can come in and have a late dinner and entertain themselves," Jordon explained to his friends. "We've existed side by side with these organizations for years but not once has anyone from those places offered us free tickets or really thanked us for what a great job we're doing catering to their crowd."
I asked another local restauranteur, who happens to be a friend of mine, to share his feelings about the relationships between the arts organizations and the restaurants in Hayes Valley. He asked to be quoted anonymously. Here is what my friend said:
"SFJAZZ has been great thus far. We got some tix for helping them out during the gala. One of my employees got to attend the gala as guest.  I am not sure if it is because they are new, but our relationship is very good with them. In regards to the other arts, we do not really have a relationship with any of them, whether good or bad. I just do not know who they are."
Hmm.
Now I understand that the arts organizations already do a lot for the restaurants by populating them with hungry pre- and post-show arts mavens. If the arts organizations left Hayes Valley tomorrow, it's fair to say that the local dining landscape would suffer a blow.
Even so, I think the arts organizations that have been around Hayes Valley for a while and frequent places like my friend's and Jordan's restaurants (which I happen to know are both popular among the Opera and Symphony crowds for their proximity and high-end appeal) should take this feedback on board and comport themselves in a more neighborly manner.
Arts organizations and restaurants in Hayes Valley are all part of the same cultural ecosystem. They ought to interact symbiotically with each other and strive to maintain friendly relations. After all, don't the Opera, Ballet and Symphony want the waiters at swanky eateries like Jardiniere, Absinthe, Rich Table, Nojo and Bar Jules to recommend their latest productions? If so, they should  follow SFJAZZ's lead.