Here's one for the books — an attractively designed boxing anthology with heart, The Fighter Still Remains, just out from Fore Angels Press and DIBELLA Entertainment. I'm told all profits will go to the Berto Dynasty Foundation to benefit Project Medishare for Haitian earthquake relief.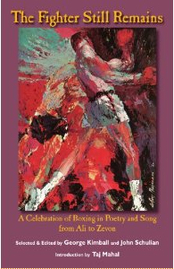 The fact that the book has been brought out by an obscure press in collaboration with a fight promoter (who, for all I know, may be one and the same) probably means that no major publisher would touch it. It also means — pardon my cynicism — that the book is not likely to get much exposure and won't earn much in the way of profits. But every penny for Haitian earthquake victims counts, right?
In any case, readers who buy it are shitsure going to get their money's worth. Selected and edited by George Kimball and John Schulian, with an introduction by Taj Mahal, the anthology celebrates "boxing in poetry and song from Ali to Zevon."
Selections include a wide range of choices, everything from "The World's Shortest Poem," by Muhammad Ali ("Me / Whee!"), and Paul Simon's song lyrics for "The Boxer," to Ishmael Reed's "White Hope," Warren Zevon's "Boom Boom Mancini," and "Ready to Rumble Rag," a song by Kimball and Tom Paxton that consists of nothing but boxers' names — or rather the monikers invented for them by fight fans and headline writers:
Marvelous Marvin Gaseous Cassius Gentleman Jim
Homicide Hank … Smokin' Joe
Brown Bomber Little Red Pink Panther Al Blue Lewis …
Black Rhino
Neon Leon Iron Mike Toy Bulldog Fainting Phil … Jersey Joe
Wild Bull of the Pampas Bronx Bull Baby Bull Atomic Bull
… White Buffalo …
…
Kid Dynamite Kid Chocolate Dixie Kid Kid Diamond …
Baby Joe
Pretty Boy Golden Boy Honeyboy Schoolboy …
Boston Strong Boy
Hit Man Sandman Magic Man Pac Man … Cinderella Man
Ice Man Matchstick Man Orchid Man Quiet Man …
Ding-a-ling Man
There are also short prose excerpts from, among others, Leonard Gardner's Fat City, J.P. Dunleavy's The History of the Ginger Man, Elmore Leonard's Out of Sight, Pete Hamill's Flesh and Blood, and Philip Roth's The Facts, and even something by Ted Berrigan, a poet you would not normally associate with the sweet science.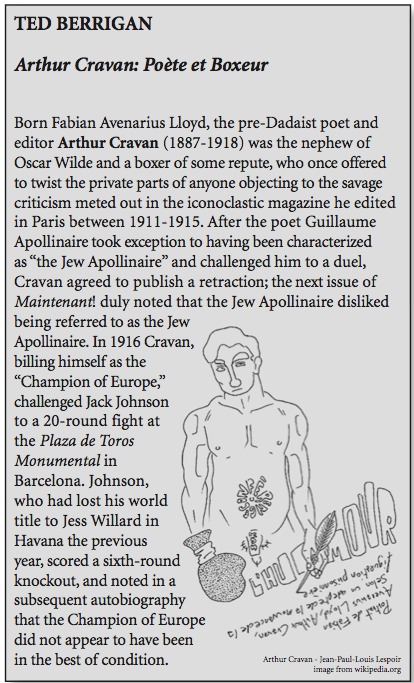 The Fighter Still Remains came about when Kimball and Schulian finished editing a different anthology, At the Fights: American Writers on Boxing, to be published by the Library of America in 2011. "Our dream for that book was to include fiction, poetry, song lyrics, and screenplay excerpts as well as nonfiction," Schulian writes in an e-mail message. "But even at more than 500 pages, the book turned out to be best suited for nonfiction. It was George who had the idea to gather what you find in The Fighter Still Remains. The biggest heart of all belongs to him. My contributions were minimal. Mostly, I was a West Coast-based cheering section for George." When not cheering for old Westerns, that is.

(Crossposted at HuffPo)