Been meaning to mention the New York premiere of Bach & friends, the full-length documentary by Michael Lawrence, at Symphony Space last Sunday. After the screening, several of the musicians from the film gave virtuoso performances for a deeply appreciative audience that filled the 760-seat Peter Jay Sharp Theatre almost to capacity. The combo concert was a stunner.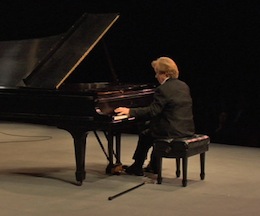 Appearing live were the cellists Zuill Bailey (who has a new Telarc recording out, Bach Cello Suites) and Matt Haimowitz; the clarinetist Richard Stoltzman; and the pianists Hilda Huang, a 14-year-old prodigy who just won the top prize in a major international Bach competition; Mike Hawley, a polymath who also emceed with charming warmth; and John Bayless, an extraordinary classical improviser whose performance of his "Elegy for Henry," composed in honor of the late Henry Steinway and written for left hand, was especially moving. (Bayless suffered a stroke after his appearance in the film, which paralyzed his right hand.)
There will be another screening this Sunday, May 23, at Symphony Space, in the Leonard Nimoy Thalia, preceded by live performances, which are to begin at 5:30 p.m. The violinist Eugene Drucker, a founding member of the Emerson String Quartet, will play the "Saraband" from Bach's "2nd Partita." The pianist Simone Dinnerstein will then join him in a sonata for violin and piano. Richard Stoltzman and Dinnerstein will play a da gamba sonata. Dinnerstein will cap off the live performances with the "Aria" from the "Goldberg Variations," which she has also recorded. Mike Hawley will again serve as host. He hasn't decided yet what he'll play. "It depends on the piano, which I haven't tried yet," he says.


Postscript: May 28 — Bach & friends will be screened for the last time at Symphony Space on Sunday, May 30, in the Leonard Nimoy Thalia. The documentary will be preceded again by live performances at 5:30 p.m. Fourteen-year-old prodigy Hilda Huang will play. Mike Hawley, who will host again, also will perform. There may be other live performances by musicians featured in the film, depending on who Mike Lawrence can snag on a holiday weekend.

Incidental intelligence: At last week's screening Richard Saul Wurman, the noted architect and graphic designer who co-founded the TED Conferences, put in an appearance. "He is the person most responsible for BACH & friends getting made," the genial film director said. Richard Stoltzman and Simone Dinnerstein felt their chamber performance went so well, especially never having played together before in public, that they plan on doing concerts together in the future.
More incidental intelligence: Hawley, whose arrival was unavoidably delayed, took the stage after the screening. He played the slow movement of a Vivaldi concerto that Bach transcribed for keyboard and ended with a rollicking final movement of Bach's "Italian Concerto." He also engaged the audience in a game of "name that tune" and spoke about Bach's playfulness as a composer who sometimes used the letters of his name to code the structure of his music.