I wrote about Mary Beach briefly a year ago when some of her collages were exhibited as part of a group show, "326 Years of Hip," at The Clayton Gallery & Outlaw Museum on Manhattan's Lower East Side. Some of Mary's texts and visuals — the one below left, for example, and another below right — appeared in our little magazine, The San Francisco EARTHQUAKE, back in the '60s.
Mary devoted much of her time to translating French author Claude Pélieu's many books into English. She and Claude were together for more than 40 years. They were married in 1975. He died in 2003, and friends say she never truly recovered from his death. Pierre Joris wrote his
obituary for Le Monde
and translated a late '60s poem of Claude's from "Jukebox." (Le Monde cut the poem, Joris says, but it was posted along with the obit on a University of Buffalo listserve.)
Hammond Guthrie has put up a tribute to Mary Beach on his Web site, which he tells me will grow. At the moment it has an obituary and photos of Mary that he put together from various sources; also a short reminiscence he asked me to send, along with cover illustrations of our little magazine collaborations from the '60s and some of the books she brought out as a publisher. My reminiscence is a slightly updated version of Memory Lane, which I'd posted here in 2004, after speaking with her for the first time in a long time. As she said: "It's been a thousand years." Six months later I visited her in Cherry Valley and took her to lunch, which turned out to be a tunafish sandwich — a sad coda as I think of it now.
Here is my small, updated reminiscence about our time together in San Francisco from 1967 to 1969, when we collaborated on SFoEQ together with Pélieu, Norman O. Mustill and Carl Weissner:
Mary and Claude were workaholics when I knew them. They invariably spent their days writing, translating and slicing up reams of magazine illustrations for pop collages. But after work they partied.
Their apartment up the hill from North Beach was the scene of many drunken evenings. The two of them were incomparable hosts who prized intelligence, wit and balls above everything. Next came barbed gossip about overrated literary poobahs that usually ended in fits of laughter. Sometimes we spent the same sort of evenings at Mustill's place in San Anselmo, where he kicked the party up a notch.
At the time, Mary was the publisher of Beach Books, Texts & Documents, which brought out William S. Burroughs's "APO-33," Claude's "With Revolvers Aimed Fingerbowls," the Pélieu-Burroughs-Weissner collaboration "So Who Owns Death TV?" and Norm's "Flypaper," a demonic collection of figurative collages in black and white.
It was evident from "Flypaper" and even more so from the blazing abstract artworks hanging in his livingroom — riotous wall-size collages made of billboard fragments in full bloody color — that Mustill was the genius among us to rival Uncle Bill.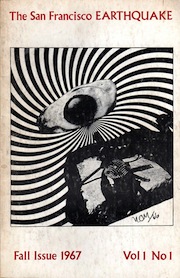 Earthquake lasted for five issues. Contributors included Burroughs, Weissner, Pélieu, Mustill, Ed Sanders, Allen Ginsberg, Lawrence Ferlinghetti, Ed Ruscha, Dick Higgins, Robert Duncan, Michael McClure, Frank O'Hara, Gail Dusenbery, Janine Pommy-Vega, Doug Blazek, Sinclair Beiles, Harold Norse, Jean-Jacques Lebel, Liam O'Gallagher, Nanos Valaoritis, Charles Plymell and too many others to name.

Charley printed the first SFoEQ, left, on an old Multilith press in his bedroom. (He and Mary's daughter, Pam, were living together.) That issue had a cover by Mustill and was co-edited by Gail Chiarello (then using her married name Dusenbery). Charley printed a lot of firsts on that Multilith, including Robert Crumb's first Zap Comix, No. 0.

Mary's literary papers, along with Claude's, are archived in The Fales Library & Special Collections, New York University. Mine are in the Charles Deering McCormick Library of Special Collections at Northwestern University Library. I dunno know where Norm's are, probably in his attic. He's just turned 75 and has long since decamped from California. Still living out West, he tells me he's "busily muckin' away at my Combo Electric Chair/Voting Machine and other expediencies. These are a series of sculpture-assemblages, the CECVM inspired by Jeb Bush, naturellement."

Mary Beach — the painter, translator and writer (and an old friend and literary collaborator) — died last Thursday. She was 86. Her son, Jeffrey Beach, tells me she died of cancer. It had been diagnosed several months ago. She is also survived by a daughter, Pamela, and a granddaughter, Elizabeth, both of Cherry Valley, N.Y., and a grandson, William, of Rochester. A memorial is to be held on Sunday, beginning at 2 p.m., in Cherry Valley, at 142 Main St., where Mary had been living.