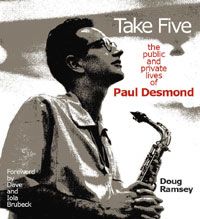 Any fan of Paul Desmond, let alone his biographer, rates a big welcome in my book. Doug Ramsey joins the ArtsJournal blogging crew
today with the launch of Rifftides. He says his blog,
though largely about jazz, will be "dedicated to taking music seriously," but "with only enough
seriousness to maintain reasonable dignity." He's already taken on Ben Ratliff of The New York
Times in Crystal Ball Criticism for "the
amazing critical leap of predicting that a musical event will be uneventful" before it begins. The
event, at the JVC Jazz Festival-New York, is tonight's "Piano Masters Salute Piano Legends"
concert.