Fox News, which registered "Fair & Balanced" as its trademark, must have done a double-take
when C-SPAN tried to poach the phrase earlier this week. In a ludicrous attempt to "balance" its
coverage of a lecture by Holocaust scholar Deborah Lipstadt, C-SPAN said it would pair it with a
speech by Holocaust denier David Irving, a so-called historian who says of Auschwitz, "It's
baloney. It's a legend."

"You know how important fairness and balance is at C-SPAN," executive producer Connie
Doebele told Washington Post columnist Richard Cohen. "We work very, very hard at this. We
ask ourselves, 'Is there an opposing view of this?'"
"As luck would have it, there was," Cohen wrote in his column on Tuesday, "Balance of the Absurd":
To Lipstadt's statements about the Holocaust, there was Irving's rebuttal that
it never happened — no systematic killing of Jews, no Final Solution and, while many people died
at Auschwitz of disease and the occasional act of brutality, there were no gas chambers there.
"More women died on the back seat of Edward Kennedy's car at Chappaquiddick than ever died
in a gas chamber at Auschwitz," Irving once said.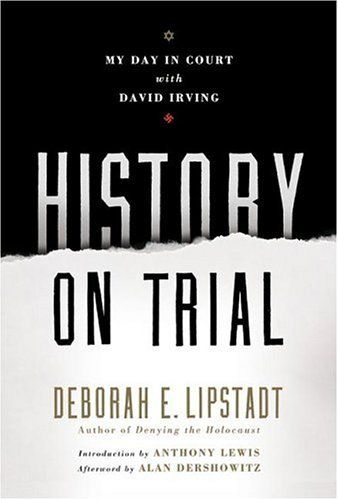 When Lipstadt learned that C-SPAN's notion of fair and
balanced meant airing her March 16 talk at Harvard along with Irving's March 12 speech at a
diner in Atlanta, she refused to have her talk videotaped for C-SPAN's "Book TV" program. The
program would have helped her promote her recently published "History on
Trial," which chronicles the libel case Irving brought against her for citing
him, in her 1993 book "Denying the Holocaust," as an anti-Semitic racist who
distorts history with lies.
Lipstadt proved the truth of her claim to the British court, where the case was tried. The
court not only ruled in Lipstadt's favor but, as Cohen notes, also ruled that Irving was
"anti-Semitic and racist." In fact, anyone who has followed Irving's career even slightly knows he
often appears as an invited speaker at events organized by white supremacists.
Since the publication of Cohen's column, Tamar Lewin reports in this
morning's New York Times, more than 200 historians have signed a petition protesting the
network's plan to broadcast Irving's speech. "Falsifiers of history cannot 'balance' histories," the
petition is quoted as saying. "Falsehoods cannot 'balance' the truth."
Cohen wrote:
C-SPAN's cockeyed version of fairness — it told Lipstadt that it had bent over
backward to ensure its coverage of the presidential election was fair and balanced — is so mindless
that I thought for a moment its producers and I could not be talking about the same thing. This is
the "Crossfire" mentality reduced to absurdity, if that's possible. For a book on the evils of
slavery, would it counter with someone who thinks it was a benign
institution?
The protest petition has been delivered to Doebele, who may be having second thoughts.
C-SPAN taped Irving's speech, but a network spokesman now tells Lewin that plans to air it are
uncertain. Unfortunately, damage has already been done. As Cohen wrote, "On this occasion, at
least, Irving did what he could not do with his libel suit: silence Lipstadt."