In life, he was a traitor to his class. In "Trying," a two-character play by Joanna McClelland Glass at the Promenade Theatre in New
York, he is hardly that. He's far more the Philadelphia blueblood offended by servants who
are "forward" and women who are "bold" than the former New Dealer who served as FDR's
attorney general and as Chief Judge at the Nuremberg trials.
We're talking about the playwright's Francis Biddle. He is doddering on the edge of senility in
1967 at age 81, confronted by a new young secretary hired by Biddle's wife to replace the
previous secretary who quit rather than put up with his patronizing insults and withering scorn,
not to mention the long line of secretaries before her who didn't last.
We're talking about the Francis Biddle who is offended by the deterioration of manners and
language he sees all around him; who is offended by new gadgets and even old ones, not least, by
the "hideous gas heaters" in his Georgetown office above the garage, which were designed by an
"imbecile" (Biddle's favorite epithet for anyone he holds in contempt; another, reserved for his
cook, is "clucking succubus"); who is offended by bills he forgot to pay; who is so offended by a
great-nephew "using drugs" that he writes him out of his will on the spot.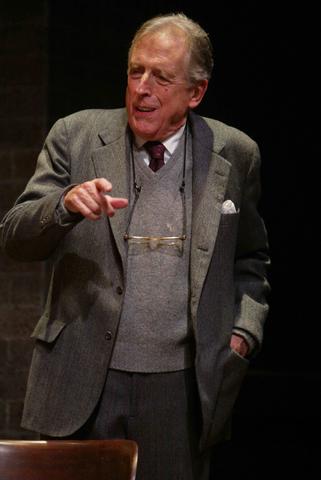 Luckily for this Francis Biddle, he is played by Fritz Weaver. (Photo by Joan
Marcus.) Weaver redeems him by making him much easier to take than he deserves, by not
portraying him merely as a cantankerous character made lovable in spite of himself, although the
script comes borderline close to that cliché. Weaver turns this Francis Biddle into a credible
human being whose record of historic accomplishment is counter-balanced by a personal sense of
loss — principally the death of a young son, which has haunted him ever since — giving him a
tragic perspective on life that makes his snobbism and disdainful tirades, if not sympathetic, at
least palatable.
It's not as if Weaver creates this Biddle out of thin air, however. The script does lay the
groundwork for his characterization, not only with biographical details that soften us up but
with dialogue that shows several other redeeming traits: flashes of dry humor, liberal
outrage, love of poetry and an underlying sense of fairness.
Recalling his boarding-school days at Groton, he describes a less-than-privileged experience.
It was a place, much like a prison. There, Biddle says, "The Reverend Endicott Peabody damn
near killed me with his sanctimonious religiosity. He knew and taught and understood one thing
only. He called it 'muscular Christianity.' Please, God, on my knees, God, let me depart this earth
without ever again experiencing 'muscular Christianity.'"
Those well-delivered lines draw knowing laughter at the Promenade on the Upper
West Side of Manhattan, where the audience is likely to be unanimous in its opposition to George
W. Bush. They're not the only lines that may be taken as overt references to current politics,
either. When Biddle discovers that his new secretary shares his love of e.e. cummings's poetry,
they trade favorite lines from the same poem. Hers is, "I will not kiss your fucking flag." His is,
"There is some shit I will not eat." Thus we learn that this Francis Biddle, the high-toned
curmudgeon who cannot abide anyone using split infinitives, doesn't mind using common
vulgarities in a good cause.
I did say "Trying" is a two-hander, didn't I? Which makes it strange not to have said
anything yet about the other character, Sarah, the new secretary, who is played by Kati
Brazda. Unfortunately, there's nothing much to say about Sarah. Although she's reportedly based
on the playwright herself — Glass once worked as the real-life Biddle's secretary — she
exists as little more than a theatrical device. She's a foil for Biddle, and that's about all.
If you must know, Sarah, like Glass, is a Canadian who hails from
Saskatchewan. She's not, as she says, "one of the pleated-plaid Ivy girls" but rather a "prairie
Populist." She's 25 (which, based on the casting, is tough to believe) and newly married. She uses
speedwriting to take dictation, not shorthand, a point of contention between her and Biddle, and
she's hard-working, organized and understanding.

It gives away nothing to
reveal that Sarah has the "spine" to last as Biddle's secretary, or that her father was an abusive
alcohoic, or that she's not completely happy in her marriage, or that she has vague
ambitions to be a writer — because the play itself gives so little away about these clues to
her nature. It rarely explores them beyond a mention, and Brazda doesn't flesh them
out.
The oddest thing about "Trying" (a title that somebody should have changed) is that it feels
so slight despite its length (nearly 2-1/2 hours with an intermission). One reason is that little
happens. We get to know this Francis Biddle, and we get to watch him and Sarah
getting to know each other. That's it. Another reason is that after they've come to terms, the play
fizzles out without an ending. It's as though we've seen them climb a mountain only to discover it
was an anthill.

"Trying" is at the Promenade
Theatre, 2162 Broadway (at 76th Street), New York.
Performances are Tues. to Sat., at 8 p.m., with matinees Wed., Sat. and Sun. at 3 p.m. Tickets:
$26.25 to $66.25. They may be purchased at the theater, by telephone (212-239-6200) or online
at telecharge.com.