Dance in January is dizzying and divided even by New York standards. 
 Uptown, New York City Ballet gets back to mixed programmes, almost always with a blast of Balanchine in the first week or two. This year, it's two weeks of Balanchine's Tchaikovsky, which may prove too much vastness of feeling mixed up with shimmery imperial pomp at a go. 
But every ballet lover should at least try to catch the stupendous program that consists of Serenade, Mozartiana, and Tchaikovsky Piano Concerto No. 2. My esteemed ArtsJournal colleague Tobi Tobias mentions in a recent post that before City Ballet moved to Lincoln Center, the company would open each season with Serenade (a new and improved one, according to Balanchine and to the chagrin of many regulars, Tobi remembers). Maybe it still should. Serenade feels both defining–of Balanchine and the New World's place in ballet–and infinite. 

"Maybe it's not right to talk about," Balanchine said in his old age. "But . . . in everything that I did to Tchaikovsky's music I sensed his help." As a student at the Imperial Theatre School, Balanchine grew up inside Tchaikovsky ballets, and his first piece in America was to the composer's Serenade for Strings. He identified his fellow St Petersburger not only with the courtly milieu of his childhood and a child's exposed feelings but also with the kind of wondrous mystery that would allow a dead composer to commune with a living choreographer. 
 Divine agency in all its enigma and inexorability runs through and stretches over several of the Balanchine works in this season's Tchaikovsky Celebration – the second of New York City Ballet's three music-themed mini-festivals this year – and certainly in the first of the three programmes (alternating nights until January 27). 

Serenade (1935) reflects the music's huge shifts in scale and gravity by interweaving mass and individual – the impersonal corps' seesawing, swirling, frothy patterns and the three principal women's striking variations on them. These three elusive heroines seem to have emerged from the waves of destiny, to which they eventually succumb. The 30-minute ballet is so swift and protean and yet so sure of itself that you do not merely watch the principals; you want to know what drives them. The constant prick of mystery – "Why does this woman, and now this, evanesce into the wings?" – prepares us for the ultimate question, why one woman must die. 
 On opening night, the transfixing Janie Taylor imagined the sacrificial lamb as both wilful and desperate. All the principals danced with an unembarrassed pathos and emphatic gesture suited to the rich sound that guest conductor Roberto Minczuk conjured from the orchestra.

Janie Taylor and Sebastien Marcovici waltzing before her doom. Photo by Paul Kolnick for New York City Ballet. 
In his fealty to the music's spirit, Balanchine reordered movements. It is fine for Tchaikovsky to circle back to pomp after elegy, but the human element in dance discourages such a severe reversal of fortune. After death or misfortune, why would anyone be leaping around? 
 Which is the puzzle of the otherwise ravishing Tchaikovsky Piano Concerto No. 2 (aka Ballet Imperial). The queen abandons her beloved – Ashley Bouder limpidly demonstrating the stages of her disillusionment over the wooden Jonathan Stafford – only to make a grand appearance with him in the finale. I'd call that a non-sequitur, not a mystery. 
 In Mozartiana (1981)……

For the divine mystery in Mozartiana, click here. (First timers may hit a request to sign up. It is free and permits 10 Financial Times articles a month. Please click.) 
Meanwhile downtown (or "downtown," if you prefer), presenters for alternative spaces from across the country and Europe converge on theaters, where much-anticipated premieres and reruns of acclaimed work follow fast on one another from evening to late night. There are festivals– American Realness, Coil, Focus (at the Joyce)– and one-offs like Japan Society's annual Contemporary Dance Showcase. Each event or cluster of events may have its own ethos and flavor, but the emphasis overall is on the experimental.
Here are chunks from two Financial Times reviews I wrote last week, in the midst of the mania. 
Inside the evening's programme was a diagram of the constellation of handmade fish-skin lanterns hanging brightly overhead. The map's key identified the person who constructed each delicate, irregular sheath and the exact number of miles this particular sacrificial salmon would have swum to return to its birthplace,spawn and die. The motif of displacement flitted through Niicugni ("Listen"). How far can a fish, a dance, a people or person – such as choreographer Emily Johnson, based in Minnesota, far from her native Alaska and her Yupik kin – stray and still remember the starting place? But Niicugni does not explore this theme so much as admit defeat before it – and in the process give us a shove.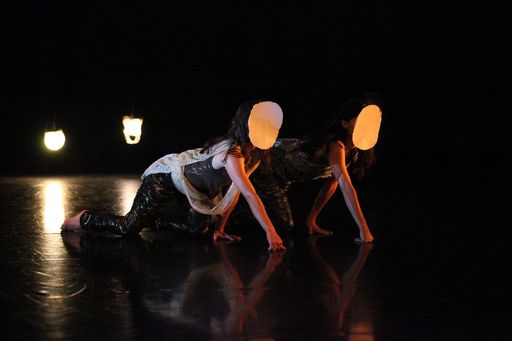 Photo by Chris Cameron for PS 122's Coil Festival 
For how Niicugni estranged the audience, click here. 
The work can be rough at the seams, but you can count on this quirky annual showcase to present a more specific vision of contemporary Japan than BAM, the Joyce or Lincoln Center – all on the global circuit. Either deliberately or because they do not know any better, these young choreographers are refreshingly, if sometimes untranslatably, local.

Kentaro!!'s song-and-dance troupe Tokyo Electrorock Stairs is typically urban Japanese in its absorption and refashioning of American exports – in this case, gangsta hip-hop. In Send It, Mr. Monster four dancers executed cocky hand signals and low-slung, crisscrossing steps with that unlikely mix of bounce and emotional flatness that characterises Hello Kitty, big-eyed animé heroines and even Murakami novels. In a solo moment, rubber-limbed clown Kentaro!!'s air of exhaustion and insouciant fatalism added a subtle layer to the flat surface. 
 Mechanised businessmen and the old-man babies of butoh ("dance of darkness") have appeared regularly in this showcase, but until now not in the same dance. Secret Honey Room began with choreographer Makoto Enda's "a businessman gets dressed" solo: a whirlwind of suit, tie and unco-operative limbs. Soon Kumotaro Mukai's white-faced imp rolled onstage on a tiny squeaky-wheeled tricycle to complicate matters, though not enough. 

Photo for Japan Society by Julie Lemberger
 These Japanese archetypes – upright harried citizen versus primordial folk spirit frozen in embryonic incompleteness in the wake of Hiroshima and western-style progress – needed common rhythmic ground to get entangled. Secret Honey Room only lurched and lulled between them.


For an unusual variation on the apocalyptic and how you can tell a troupe is not Japanese, click here. 
 And if you are not worn out yet by the New York scene or me, Financial Times reviews from the holidays to enjoy: