I've seen many exciting ballets in the last few
weeks–and I knew if I didn't write about them soon (all of them), I'd forget
what I was thinking. So this roundup is altogether too long. In order not to
fall into a stupor, perhaps you should read it in installments. The photos
serve to separate the parts.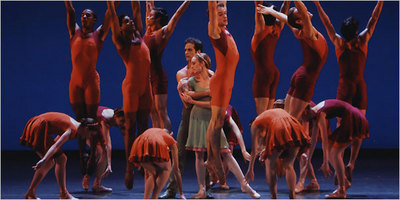 About
Alexei Ratmansky's "Concerto DSCH," my friend Elaine exclaimed,
"It's so real!"

Of course, it's not real, it's ballet. But Ratmansky's eye for what people do
together–become voyeurs, perpetrators, flirts, attention-hoggers, rivals,
accidental lovers–is so wise and funny that he seems to have lifted scene
after scene from life and translated it more perfectly than possible with
translation into ballet. It's like when Marge and Homer Simpson become
pilgrims–exactly as they've always been except now they're on the Mayflower.

At one point late in the ballet–the score is Shostakovich's urbanely witty,
then brooding, then buoyant Piano Concerto No. 2 in F major–a horde of dancers
bursts onto the stage with little flat-footed hops, and everyone laughs, not
only because the boing in the step is funny but because, performed en
masse, it answers the drama that the dancers have just intruded on. You
feel glee –and relief–to find aspects of humanity so instantly recognizable,
no matter the language they're spoken in.

It's tempting to compare Ratmansky to all the other choreographers I admire,
not because he's derivative–not at all–but because he ratifies ballet's
history by extending it. The choreographer whom he most reminds me of, though,
is Jerome Robbins. (I swear, I had this thought before the Robbins festival at
New York City Ballet began. Specifically, it was Ratmansky's "Bizet
Variations," with its shades of the three rival sailors in "Fancy
Free," that clinched the connection for me. That was during the BAM run
this winter of Nina Ananiashvili's State Ballet of Georgia, which commissioned
the ballet.)

Ratmansky also makes a real place of the stage. He also is preoccupied with the
psychology of the group and of the individual in the group; he also understands
the corps not as a corps proper but as a bunch of people, whose relation to one
another is constantly in flux. He also recognizes the punctuating power of
exits and entrances (like the last word in a sentence or in a line of poetry).
Most of all, he succeeds where Robbins desperately wanted to, but only
sometimes did: he develops a language that jettisons conventional signs (for
Robbins, the "cool" finger-snapping, the maidenly curtsying, the
folksy jigs) for what those signs originally conveyed, before they became
commonplace. Too often, Robbins got stuck in the middle, retaining the gestures
while lifting them from their social context, so they quickly devolved into
shtick. Ratmansky saves himself by inventing his own gestures. (He loves
inventing steps as only perhaps Balanchine did, and he's got a keen sense of
their evocative oomph.) Because the moves are never exactly what you'd see in
the world, they offer it with wit and insight.

On the same program– it's called Here and Now–is "Rococo
Variations," Christopher Wheeldon's last ballet as the company's resident
choreographer. I dismissed it at its premiere this winter as even more
frou-frou than its Tchaikovsky score, but now, on a third viewing, it seems to
have deepened, grown full of mood. Of course I want to think Wheeldon went to
work on it, fixing the transitions so that it now feels of a piece, but
probably I'm the one who's changed.

It's embarrassing to be so inconsistent. If I love a piece at first sight, I
rarely love it less on a second go, but the other way around happens too
often–especially, for some reason, with Wheeldon and Mark Morris.

It took two visits before I could stand Morris's "Sylvia" and
"Mozart Dances." Five for "V." (Believe me, I would have
given up by then if the dance hadn't appeared on mixed bills.) Two for
Wheeldon's "American in Paris." But I'm not sliding from admiration
to adoration here, I'm leaping from impatient dislike to swoony love–a vast
distance.

Maybe it's a musical thing. Both Wheeldon and Morris respond in detail to their
scores, and when their interpretations depart radically from my own dreamy
visualizations, I spend the first visit or two simply adjusting–reading the
words but not grasping the sentences. I'm glad to have the luxury (the free
tickets!) to come again.
Last
chance for "Rococo Variations" and "Concerto DSCH" this
season: Thursday, 8 pm, State Theater, Lincoln Center. Orchestra, 3rd
and 4th ring seats still available. Nycballet.com. (The program
consists of four ballets; the ones in the middle are bad, in my humble opinion.
You could take a break for dinner and come back for the Ratmansky.)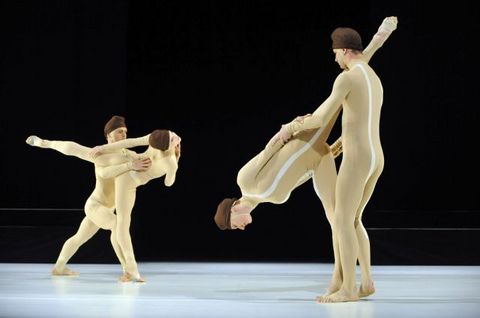 Speaking
of being quickly dismissed–and of music revisited–British choreographer
Michael Clark didn't get many reviews for his two programs to Stravinsky
scores, presented last week at the Rose Theater as part of Lincoln Center's
Great Performers series. So it's nice that the trusty old Times sent a reviewer
to both programs–except they sent the same reviewer, Claudia La Rocco, and she
didn't like either show! (Once it was clear that Clark irritated her, it was
nuts to subject her–and us–to a second drubbing. The Times should have sent
someone else.)

Where La Rocco saw meagerness, sterility, and stale, '80s outrageousness, I
found a lot to be intrigued by. (I only saw the second program, which featured
"Mmm…" to Stravinsky's "Rite of Spring" and "I
Do"–pictured above–to "Les Noces.") But that's neither here
nor there: we're entitled to our different views. I do take issue, though, with
the bind La Rocco puts an artist in who wants to respond to dance history or
even just the music of dance history.

She concludes her review of "I Do" and "Mmm…" with,
There
are neat touches throughout the two works. But Mr. Clark is going up against
history here, and neat doesn't quite do the trick.

If Clark had followed the usual plot line of the ballets, the result would
likely be derivative, if not hokey (see: Robbins' "Les Noces").
Instead, he acknowledges the scores' canonical status by assuming we know the
story and allowing himself to take a more oblique approach, and he's accused of
skirting the issue ("neat touches"). What, then, is there for
him to do? This music cries out, as it always has, to be danced to, and we
critics should be careful not to muffle that cry.

For what it's worth, "Mmm…" and "I Do" seemed to me
mainly modest and serious (albeit with kinky embroidery), intent on approaching
the music in both highly conceptual and highly kinetic and spatial terms (these
last two deliciously bound): a difficult approach, which does indeed make
success unlikely, but a worthwhile one for its being so unusual.

While the conventional response to the rhythmic bombast of "Rite" and
"Noces" is to meet it beat for beat with percussive steps, Clark
translates rhythm into an angularity of the body. The dancers move in flat,
Cunninghamesque tilts with right-angled arms. The pieces' necessary texture
comes by way of flurries of steps, turns that go against sense, torsos softly
abandoning their clear lines to gyre and implode, entrances and exits that
materialize unexpectedly (half the time through rotating mirrored panels at the
back, which open onto a cement back wall and spotlights beaming directly into
our eyes. Ingeniously creepy.).

The penchant for the planar is very British contemporary-dance– Richard Alston
and Russell Maliphant have it, too–and Americans tend to find it a bit bland.
Our strict angles–our Cunningham–is Cunningham, who is more explosive,
more suddenly still, whose palette is both larger and more detailed. But the
love that the Brits have for the most basic of Cunningham shapes–as if it were
a miracle to flatten the body into an X or a Y, how much juice even in
that!–is touching and contagious.

I found the attention the Clark pieces invited was very like that of Cunningham
dances, which have no narrative or dramatic arc, either. You get absorbed in
the details and are not waiting for anything in particular. But with Clark,
anyway, the devastatingly dramatic just may occur. "I Do" ends with
the dancers in a tangle on the floor under sickly yellow light, as if they had
been downed by poison gas and curled their limbs in to die. (Ah, the spectacle
of forever after!) The bride, bedecked in what looks like a tea cozy cum dildo,
stands above the wreckage. Trauma and drama presented as incident may be at
odds with Stravinsky's "Rite" and "Noces"–all about
anticipation, both of them–but so much the better.
Here's a one-minute
clip from "Mmm…" No more Michael Clark for Americans this
year, but the company will be touring the Stravinsky fare to Luxembourg,
Marseille, Suffolk, and Belfast this summer and fall. Click here for itinerary.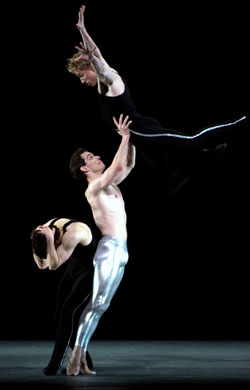 Twyla
Tharp's "Rabbit and Rogue" for American Ballet Theatre is all
anticipation. You keep waiting for the cartoon roustabouts Rabbit and Rogue and
the Balanchinean corps slipping along behind them to either more fully converge
or more completely diverge–rather than this semi-demi relationship.

The premiere last week polarized critics, with more hating it than loving it. I
fell somewhere in between, struck when it was over (and it is long) by what a
feat it is to make a ballet–a real ballet, which this is, yes–without being
struck by wonder at the ballet itself. I was never bored (though I did give way
to exhaustion by the very end, having been in a state of anticipation for
nearly an hour). But finally it seemed less than the sum of its parts.

And parts "Rabbit and Rogue" certainly has. The corps is liquid and
evanescent, very much in the mode of Tharp's last ballet for American Ballet
Theatre, "The Brahms-Hayden Variations," with whatever meaning one
derives arriving via the senses. The rapscallions Rabbit and Rogue, on the
other hand, belong to the kind of cartoon world that needs a plot. I couldn't
find one, but my Artsjournal colleague Tobi Tobias could (hers
is my favorite among the reviews I read):
The
pair [Rabbit (Herman Cornejo) and Rogue (Ethan Steifel)] sets out to see the
world, accompanied by a colorful mix of music by the film composer Danny
Elfman. Well, a postmodern idea of the world: They visit Hell, where Gillian
Murphy and David Hallberg, alternately quarreling and making love, are the
central patrons of a with-it nightclub where the required dress is black,
skimpy and spangled. (Outfits by Norma Kamali.)

Next stop is Heaven, a peaceable kingdom, all white gowns
and silver trousers, reigned over by Paloma Herrera and Gennadi Saveliev. In
this place, one might find serene compatibility, even true love, perhaps bliss.
Then the worlds commingle, as in real life.




I did have the idea that our heroes existed in a different zone from everyone
else, though primary colors for R and R, with the black and white for the rest,
would have helped. But even this might not have been enough, because for the
corps to tell a story, Rabbit and Rogue need one as well, and nothing really
happens to them. (Have you ever met a cartoon character who wasn't defined
by action? After all, what else do they have?) Rabbit and Rogue, endearingly
danced by Cornejo and Steifel, end up seeming like filler in the neoclassical
ballet Tharp actually wanted to make.

Their antics might have at least employed cartoon rhythm. Film composer Danny
Elfman's score has been disparaged for "lacking distinction," and it is
a hodgepodge. But it starts out with a color and chug–one rhythmic pattern
overlapping the next–that demands to be adhered to: Elfman is as dictatorial
at the start as his hero Prokofiev. And still Tharp doesn't listen. Given how
many of her early works depend on comic timing, it's surprising to find her deaf
to it here. Perhaps she had to make the bulk of the dance before the score was
finished.

Besides the corps moving as silkily as a school of fish, the other unalloyed
pleasure is Gillian Murphy as half of a "Rag" couple with the
acclaimed David Hallberg. Tharp brings out Murphy's silent-movie-star charm;
the ballerina returns the favor by inspiring Tharp's most interesting steps.



After roving across Japan and Korea, "Rabbit and
Rogue" hops into Orange County in August. Click here for details.

Photos in order of appearance: "Concerto DSCH" by Paul Kolnik for the New York City Ballet; Michael Clark Company in "I Do" to Stravinsky's "Les Noces" for Lincoln Center Great Performers, photo by Stephanie Berger; and "Rabbit and Rogue" by Rosalie O'Connor for American Ballet Theatre.