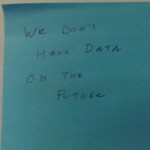 "How can we do it better and should we even be doing it in the first place?"
Does your organization look the same as it did five years ago? What about your creative practice? As individuals and organizations, we are constantly changing. We change because we encounter new ideas and recreate old ones. We think critically about how we are working and how we can make it better. But, change can be hard. Heck, change is hard.
Fear of failure relates to fear of change. Aaron Dworkin, Dean of the University of Michigan's School of Music, Theatre & Dance and Founder of Sphinx Organization, talks about how arts organizations should approach change.