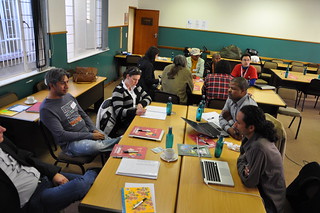 Engaging Matters has been "dark" (as they say in the theater) for longer than normal. Some of that is pandemic ennui, some sheer laziness, some a sense that in this tenth year of the blog (more on that later this year) I've said a lot of what I want to say, but most of it is that I've been focused on other things. I continue to train small cohorts in community engagement, I do some "how to" consulting with arts organizations seeking to be more effective in their engagement work, and I have been nurturing the Community Engagement Network and its Conversations.
I've not said a lot about the CEN here, although it is described in a page on this blog. However, the next discussion we will be having could be important and I want to raise awareness of it. The Community Engagement Network will host a Conversation on Friday, May 7 at Noon EDT: Benchmarking Equity.
I have said before here (There Is No "Try"–in this post I highlighted the roles Barry Hessenius and Jerry Yoshitomi played in getting me here) that the time for talk is long past and that figuring out a way to prod real action on DEI issues is essential. This Conversation is an attempt to lay groundwork for actual movement. Here is the rationale and description we have been using to publicize the event:
In the nonprofit arts industry, the pursuit and achievement of equity can no longer be a "concern" or an aspiration. Achieving it is an existential imperative. But how do we get beyond talk? One option is to establish concrete goals–benchmarks–for ourselves. Knowing what categories to include and how to set meaningful goals is a way to begin. The Community Engagement Network will host a Conversation to discuss the options. Clearly, such a discussion will be neither definitive nor final. It is only a beginning, but a beginning that must happen. [For more information, see: https://www.artsjournal.com/engage/community-engagement-network/#conversation]
Registration is required. You can register here:  https://zoom.us/meeting/register/tJIkf–uqz0sGtWGE9us7pcPh9Pt_DAE24H2
Discussion Prompts [We will divide participants into groups to address as many of the following questions as possible. Each group will record its thoughts on a common document.]
What specific goals (with time frames, perhaps using percentages) should be set in the following categories?

Public Statement of Commitment (What should be included?)
Personnel [Staff, Board, Volunteers, Participants]
Training/Preparation (for DEI work)
Programming
Community Participation

What other categories should be included?
Should there be different goals for different size organizations? For different types of arts organizations?
What other questions should be addressed?
The document created will be made available for comment and expansion after the Conversation. We hope that others might pick it up and run with it.
Such a conversation may well not be the best (or even a good) way to proceed but it is something that can be done. We encourage you to invite all of your colleagues to participate. Again, the most concise description and registration link is here.
Engage!
Doug
Photo: