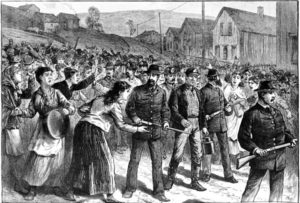 [contextly_auto_sidebar]
IF we needed another reason to disdain the billionaires who increasingly dominate our political and cultural life: The Chicago Cubs owner Joe Ricketts shut down several news sites, including Gothamist and LAist because the New York staff tried to unionize.
This is from a new New York Times op-ed by Hamilton Nolan, "A Billionaire Destroyed His Newsroom Out of Spite:"
It is worth being clear about exactly what happened here, so that no one gets too smug. DNAinfo was never profitable, but Mr. Ricketts was happy to invest in it for eight years, praising its work all along. Gothamist, on the other hand, was profitable, and a fairly recent addition to the company. One week after the New York team unionized, Mr. Ricketts shut it all down. He did not try to sell the company to someone else. Instead of bargaining with 27 unionized employees in New York City, he chose to lay off 115 people across America. And, as a final thumb in the eye, he initially pulled the entire site's archives down (they are now back up), so his newly unemployed workers lost access to their published work. Then, presumably, he went to bed in his $29 million apartment.
They've been in retreat in the US for most of my life, but trade unions remain crucial and are important for the creative class, including journalists, just as they have traditionally been for the industrial working class. HERE is my piece for Salon about the pros and cons of unionization.
Oddly, Salon was caught in an ugly union fight while I was there. When I left, more than a year since it began, the instability of the place — constant turnover at both the staff and management level — made it impossible to settle on an agreement.
In any case, this billionaire — who put several people I know out of work — earns the selfish scum award this week.