[contextly_auto_sidebar]
RECENTLY I've enjoyed a performance by the chamber group Camerata Pacifica and several conversations with its founder, Adrian Spence. I disagree with the cheeky Ulsterman on some points — I am in some ways an American Anglophile with a European bent, he is a Brit who prefers American ways — but I find him insightful and, with his group, unorthodox in an intriguing way.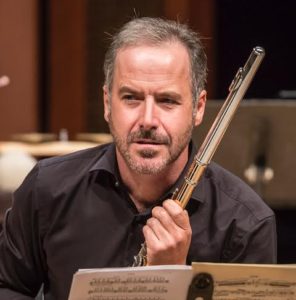 Camerata is a group, based in Santa  Barbara (sort of), now into its 28th season. After some struggling through the recession, they have bounced back financially, and are playing to larger audiences than before. The group often plays modern or new music — sometimes new commissions — alongside Schubert, Beethoven, or Ravel.
With no further introduction, I've included here my recent correspondence with Spence. The group's next set of concerts runs from Nov. 12 to 17th; schedule here. The November program involves Prokofiev's First Violin Sonata and Messiaen's Quartet for the End of Time. I'll be there.
There are a lot of classical groups, especially chamber groups, in greater Los Angeles these days. How do you think Camerata Pacifica stands out? Is there something you do better than everyone else? 
The LA chamber music scene is flourishing and we're very excited to be a part of this dynamic and expanding community, indeed we're part of a nascent collective with 7 other groups that you'll hear about soon. I'm not sure I want to get into a better, (or worse), analysis. What's exciting is the breadth of distinctive offerings in town, and I can tell you that in that environment we are distinctive. Camerata Pacifica is an international group, with musicians are drawn from across the world: Spain, UK, Ireland, Korea, Taiwan and of course the U.S., who are selected not just because of their artistic excellence, but because they subscribe and actively contribute to the Camerata sense of community. That international roster is distinctive, as is our rehearsal schedule: the musicians arrive for a residency in Santa Barbara when they rehearse for between 30 & 40 hours, sometimes more, before performing each program in 4 different cities. All of that is distinctive, as is our programming, which we address in another question.
Some large classical organizations — philharmonics and operas, especially — have had a hard time of it since the Great Recession, with some groups shrinking or laying off players, some shuttering entirely. And there has been talk about the "graying" of the audience for at least a quarter century now. You reject the idea that it's a tough time for classical music, though.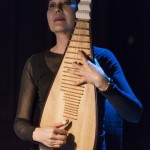 I do. Well, it may be tough for some as we're going through a significant, but appropriate, 'market adjustment' and many won't survive, especially the large paradigm institutions. The Recession's not the reason though. While it had a big impact, the issues facing the larger groups long predate that event. Led by chamber ensembles, however, we're well into a 2nd classical music renaissance. There's been talk of audience greying for centuries — can't you writer folks come up with another question? Let me tell you, the last thing I'm worried about is running out of old people — there are new old people every day! The rest of your question demands a more complex answer, which would be book-length. Consider this a start though, classical music burgeons on an emergent middle class: that's what happened in post-Enlightenment Europe, in the late 19th century U.S. and now in, for instance, China. These new residents of the middle class weren't all devotees of classical music — for them music was an upwardly mobile thing. In Europe the new class with money and education wanted to emulate the aristocracy; in the U.S. the philharmonics and symphonies weren't created to satisfy a great love of music, but because civic pride dictated those cities 'needed' those components to rival their European counterparts, and, in today's China the huge emergent middle class has similar aspirations towards, at least perceived, sophistication.
If we allow for that 'bubble', it follows there will be a contraction and that's one of the many reasons we've experienced a decline in audience these past decades. Here's the thing though, and this is a radical notion … at Camerata Pacifica people come only to listen to the music. No airs and graces, no self aggrandizement, certainly there's no social cachet here — the Camerata audience is there to listen to the music — WOW! This is happening all over, led by chamber music. An audience of 2,000 is becoming much more difficult to find, but 10 audiences of 200? All the time. Look at the programming too … adventurous, interesting, surprising. At the beginning of the 21st century we have the best audiences EVER!
The rule of thumb in most classical groups, as long as I've been paying attention, is that audiences are — by and large — not interested in contemporary music or new composers, and that this work should be set off from the mainstream programs with separate all-contemporary concerts or entirely separate series. What has your experience with modern and new pieces been? 
Let's take my previous answer as a starting point: Camerata Pacifica has a loyal and, (key phrase), intellectually curious following. From the beginning, in the early 90s, I've programmed music that people don't know — for a while I had a thing for early 20th century British composers — largely romantically based writing that, while new, wouldn't be entirely unfamiliar. What happened was our audience became conditioned to show up to concerts with music by composers they didn't recognize, and to hear music for the first time. This is great! A few times a season I would push the boundaries of comfort, and they would come with me. This was and is so exciting. Another Camerata distinction is our audience is a 'mainstream' audience that has journeyed through the repertoire with us. We are not a new music group, nor are we a heritage organization. We are a performing ensemble that explores the range of human musical expression, not bounded by a particular period. Bach had the same hopes and fears as you and I have; that his music is different than Messiaen's is a result of artistic/technical evolution, not mankind's emotional development. There's the basis of exploration.
The idea that audiences aren't interested in contemporary music is old school thinking, and a principal reason many of the larger groups are going belly up — they're mired almost exclusively in 18th/19th century repertoire. One of Camerata Pacifica's most successful programs is our commissioning program, with 17 significant new works premiered to date — all funded by our audience. I don't see how segregating the audience does anyone any favours, whether it's new music, old music … isn't it the range of expression that's mind-bogglingly wonderful?
Today's audiences are interested in a dynamic performance experience, unconstrained by style or period. A live performance should be an adventure in listening. For sure you're not going to love everything you hear, but that too is part of the adventure — developing your own taste, as opposed to being confined by what convention tells you you like.
Your structure is unorthodox: Your concerts take places in Santa Barbara, Ventura, outside Pasadena, and in downtown Los Angeles. The conventional wisdom is that a group that performs in several different cities will engage the loyalty of none of them, and will fail to engage an audience or a donor base. Do you think you've beaten this curse? 
Dude, you've got to get out more ☺ Starbucks does it. MacDonald's does it: this isn't a new concept! Camerata Pacifica enjoys great audiences in each city, and they're all very individual. As with any arts group, our expenses are front loaded … it's expensive to rehearse and, as I shared earlier, we rehearse a lot. Therefore first concert is very costly, but at that point I have a fully rehearsed band, so the marginal cost of adding performances is relatively small. On the other hand, ticket sales and generous support are increased, in our case, times four. The costs are amortized over four venues, and the income increased over four venues. Camerata Pacifica has a very durable subscription base in each city, with a very high renewal rate. It's significant too, that while we perform in chamber music appropriate halls, (small), that emphasize the powerful intimacy of this music, cumulatively each program reaches over 1,000 people.
You hail from Belfast, and as an Ulster Scot you are sort of on the edge of Britain, and on the edge of Ireland as well. Does that complex split shape your sense of music, culture, nationality, or anything else? 
Yes, a little town outside Belfast called Newtownards. Over there I couldn't get away with saying I came from Belfast. I haven't spent my time thinking about the influence of my cultural heritage. It was a working class background and that, for sure, and the inability to take no for an answer helped get this thing started. No is just the first two letters of not yet! That I'm an emigrant might be relevant: those of us who up stakes and cross the world to self-start something? Perhaps there's a selection process inherent there. Certainly I came to the U.S. and completely bought into the American Dream, that you can achieve anything provided you work hard enough. I don't believe I could have started something like Camerata Pacifica in the UK or Europe, and I do believe the American system of arts funding, of personal investment, provides a more durable and meaningful model than state funded systems.
Would you like to say something about the next program, which includes a major Messiaen piece, or your concerts coming up this season? 
Well, the program that begins on November 12th is profound and intense, with Prokofiev's F Minor Violin Sonata and Messiaen's Quartet for the End of Time — a universally acknowledged masterwork, that was famously composed and premiered in 1941 in a Nazi prisoner of war camp. But all the programs are great —you should come to them all!
That's only half a joke. We are in the midst of a great time for classical music. This is the golden age. If you must have a diet of only the 18th & 19th century masterworks Camerata Pacifica's not for you. I can recommend other groups for you to attend, but they're following a model exemplified by the band playing on the deck of the Titanic. (Ahem, built in Belfast by the way. It was working when it left there!)
This is a great time to be part of an audience of one of the many superb, dynamic groups performing today, be it Camerata Pacifica or another ensemble. You can choose to cling to the past, or you can be part of the dynamic now. If you lean to the latter, my best advice is find a group you trust and subscribe. There's no point in trying to cherry pick what programs you think you'll like; there's no way an audience member can know the range of music an Artistic Director does. Purchase the whole series, listen to everything and enjoy the ride. You'll love it.