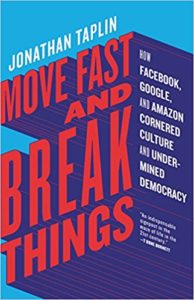 [contextly_auto_sidebar]
SINCE I turned my book Culture Crash in four years ago, a few things I described have proven me a bit pessimistic. (Visual art may be healthier than I predicted, and music steaming has become a bit more artist-friendly.) In some cases, though, even this grim tome of mine was a bit rose-colored. Even though I wrote — against the advice of my editor — a cautionary chapter on the Internet's transformation of journalism, things have turned out far worse than I expected.
So even while I lamented what technological and other shifts had done to journalists themselves, and discussed the centrality of print journalism in the ecology of the arts, and even cautioned that journalism was a cornerstone of democracy, I had no idea we'd have a presidential election jacked by a foreign power and, as seems likely, former members of the KGB.
A growing body of criticism of the Internet and Silicon Valley has taken shape since Culture Crash came out, with Franklin Foer's World Without Mind and Jon Taplin's Move Fast and Break Things two recent and exemplary examples.
My sense is that the mainstream press and a wide range of North Americans are now aware of the dangers that an unregulated Web opens our democracy up to. As a globe-trotting music-journalist friend, who speaks to a wide range of people, told me the other day, there seems to be a turning of the tide.
A recent New York Times piece, "Silicon Valley is Not Your Friend," got at this a bit. As Noam Cohen wrote:
Facebook has endured a drip, drip of revelations concerning Russian operatives who used its platform to influence the 2016 presidential election by stirring up racist anger. Google had a similar role in carrying targeted, inflammatory messages during the election, and this summer, it appeared to play the heavy when an important liberal think tank, New America, cut ties with a prominent scholar who is critical of the power of digital monopolies. Some within the organization questioned whether he was dismissed to appease Google and its executive chairman, Eric Schmidt, both longstanding donors, though New America's executive president and a Google representative denied a connection.

Meanwhile, Amazon, with its purchase of the Whole Foods supermarket chain and the construction of brick-and-mortar stores, pursues the breathtakingly lucrative strategy of parlaying a monopoly position online into an offline one, too.
The twisting of news articles on Facebook is the subject of this New York Times piece on faulty fact-checking.
And in today's Times, there's a story, "Russia Fanned Flames With Twitter, Which Faces a Blowback":
SAN FRANCISCO — Fires need fuel. In this era of political rage, a Twitter account that called itself the unofficial voice of Tennessee Republicans provided buckets of gasoline.

Its pre-election tweets were a bottomless well of inflammatory misinformation: "Obama wants our children to be converted to Islam! Hillary will continue his mission." A mysterious explosion in Washington, it said, had killed one of Mrs. Clinton's aides, raising her "body count" to six. Another proclaimed, "Obama is the founder of ISIS."

The account, @TEN_GOP, eventually reached more than 130,000 followers — 10 times that of the official state Republican Party's Twitter handle. It was one of the most popular political voices in Tennessee. But its lies, distortions and endorsements came from the other side of the world.
Overall, the press and both major political parties have been a bit soft on our technological overlords; I'll be curious to see if this wave crests and leads to real regulation.