[contextly_auto_sidebar]
LAST night, Tom Petty concluded a lengthy tour with the third of three shows at the Hollywood Bowl. The tour was designed to look back at 40 years with his band, The Heartbreakers, and is rumored to be the group's last go-round together. As a music fan who grew up in the '80s, who heard song after Petty song on both AOR and the local "modern rock" station, it was like a part of my youth was about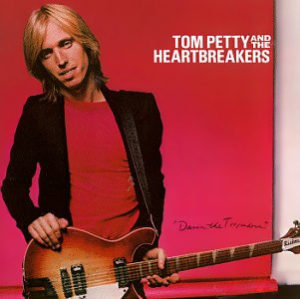 to evaporate. So though I've never seen Petty live before, and tend to avoid arena-rock shows, I was not gonna miss this one.
The striking thing about Petty, whose breakthrough came with Damn the Torpedoes in 1979, is just how many radio-ready hits he's produced over the decades. Last night's Bowl show saw him rip out I Won't Back Down, Free Fallin', Breakdown, Refugee, Yer So Bad, Don't Come Around Here No More, and an encore of American Girl, as well as a few numbers devoted to the cult-favorite Wildflowers record. The Heartbreakers are one of the best bands going, the Bowl is a lovely place to see any musical act — whether Massive Attack or the LA Phil — so while there were no surprises, this would stand as a more than respectable, almost triumphant last show if it does indeed mark the band's conclusion.
What stood out for me the most, I think, was the Heartbreakers' playing. August Brown of the LA Times recounts a wonderful anecdote, here, about how Petty met Mike Campbell, his longtime guitarist and co-writer, when both were teenagers back in Gainesville, FL: It's got to be one of the great partnerships in rock history. Benmont Tench, the band's founding pianist and keyboard player, who I've seen sitting in at Largo, is also a titan, a player who manages to be tasteful and soulful in equal measure: It's hard to imagine these songs without his instrument's voice on them.
(Given the Petty's roots in the rock of the '60s, it was no surprise to see a number of beautiful vintage guitars in his and Campbell's hands, including a Rickenbacker and what I took to be a Gretsch Tennesseean or Country Gentleman.)
Petty comes from a genre I generally don't much like — "classic rock" or "heartland rock." So much of the music forced down my and other Gen Xers' throats in the late '70s and '80s through radio, movies, and commercials has not aged well. But Petty's songs, perhaps because they are rooted in the timeless verities of the early Byrds and Mick Taylor-era Rolling Stones, still sound great.
I guess my only disappointment — besides the fact that Petty skipped two of my favorite of his songs, The Waiting and Even the Losers, both from the Byrdsy end of his songbook — is the arena-rock feel of the whole thing, especially the huge video projection of the band behind the actual stage. (It made the technology bigger, literally, than the actual musicians.) Some of the show's staging and feel emphasized the side of Petty that is — for all the craft of his songwriting and the artistry of the players — a bit corporate and synthetic. Still, this was a crowd-pleasing show played with force and love, and it's hard to imagine anyone who digs Petty's songs not walking out with a sense of satisfaction and joy.
The opener was Lucinda Williams, who has been making records for nearly as long as Petty. If I had a band, I would not want Williams to open for me: While she's been a great singer and songwriter for decades now — King of Hearts goes all the way back to 1980 — it's the strength and focus of her band, Buick 6, that I've been struck by over the last few years. She's been with this group, built around Stuart Mathis's guitar, for several tours now, and between the genius of her songwriting and the hard-charging musicianship of the backing band, these performances become epic.
Williams played for almost an hour, dedicating a song to the late Chris Cornell and playing Pineola, Drunken Angel, Essence, Honey Bee, Sweet Old World, and as a ranty/ rousing version of Joy. (She has recently re-recorded her very fine 1992 LP, Sweet Old World; the new This Sweet Old World, which i've not heard, comes out this week.) At its best, her set was like a twanged-out Texas version of Television at its height. At the very least, it was a tough act to follow.
UPDATE: Petty, of course, died a few nights after this show, so it stands as his last performance. I have not altered my morning-after review despite being tempted to do so. The man went out on a high point. RIP.