[contextly_auto_sidebar]
THE other night I was invited to a private session at the Magic Castle in Hollywood with a young magician. Siegfried Tieber — his real name, apparently, with no relation to the lion-baiting duo — practices close-up magic, which typically involves cards, rings, dollar bills, and other things that can be observed in small rooms with no smoke and mirrors, no rabbits, no disappearing dwarves.
I've been a casual/ on-off fan of close-up magic for more than a decade, ever since I researched an extensive newspaper piece on magicians in Southern California and began occasional trips to the Castle. (A few years back, my son celebrated a birthday by hiring a pretty serious close-up magician to entertain a group of seven or eight-year-olds.) But I am far from an expert on the subject.
In any case, I was entirely knocked out by Siegfried's artistry and style. Somehow, the Ecuadoran-born, Austrian-descended lad manages to be both deeply sincere and almost campy in his enthusiasm, and despite a heavy accent and some fumbling for words he communicates quite well verbally.
I spent more time speaking to him than seeing him perform,
but once my small group commandeered an empty room at the Castle, with just a table and chairs and a stray group dressed up for an office party, Siegfried pulled out some cards and simply knocked us all out.
This weekend — through Oct. 8 — he will be leading a small performance called See/Saw at Civic Center Studios in downtown Los Angeles, here. (There will, apparently, be twins.) I don't often write about magic, close-up or otherwise, but as someone who tries to shine a light on talent and invention, I could not resist. Here is my conversation with Siegfried Tieber.
You've talked about close-up magic as an art form. What does it have in common with traditional arts like chamber music or landscape painting?
Wow, this is an exciting question! Magic—like chamber music, landscape painting, name-your-favorite-art-form—is a means of expression. Different art forms are better at communicating different ideas and evoking different emotions.
Chamber music appeals to the abstract. In landscape painting we can appreciate the craft and technique used to portray reality. Magic combines sleight of hand and applied psychology to create the illusion of something impossible. Ultimately, all art forms appeal to the emotions. Art, I deeply believe, needs to transcend the intellect and hit us on an emotional level. Magic is very good at this.
Can you give us a rough sense of your road from your boyhood in Ecuador to your career as a magician here in Los Angeles — how you got here, and what drew you to LA?
I was born and raised in Ecuador. I went to high school there and at age 18 enrolled at University for Mechanical Engineering. A few months after that, a friend lent me a book on magic tricks. I picked one trick from the book and practiced relentlessly. One glorious Sunday afternoon I gathered my family in the living room of my parents' house, showed them this one trick and they freaked out. They reacted effusively, and I reacted to their reacting. That was the first time I realized the huge potential magic has. And I fell in love.
Fast forward 5 years. I graduated from Mechanical Engineering, and told my parents I wanted to do card tricks for a living. I was doing very well financially but realized that ther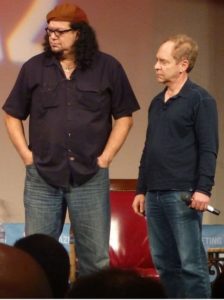 e wasn't much room for artistic growth (not many mentors, influences, people to look up to) in that beautiful, tiny country where I was born.
In 2012 I moved to LA to be around the Magic Castle. In 2015 I performed there for the first time: a dream come true.
You studied magic, I think, in the context of a theater education. How does your training in theater and acting shape the way you operate as a magician?
When I moved to Los Angeles I enrolled at a two-year Conservatory Program in acting. Magic involves different skills, for me the performance aspect of it is one of the most important. Training in theater and performance gave me the basic tools of an actor: it taught me how to stand, move, speak on the stage. As simple as this sounds, this takes time—and work—to learn.
I also learned how to work from a script. Close-up magic is highly interactive and the course of the performance is influenced by the audience-participants, but a script is a very useful tool for a magician.
You've achieved some fame through an appearance on Penn and Teller's show. How long have you known their work, and do you feel congruent at all with what they do? 
Penn and Teller are the rare kind of artists who have achieved both commercial success and critical acclaim, they have made invaluable contributions to the art of magic and, personally, they are two of my heroes. Being in their show, on their stage, was one of the greatest honors and one of the most exciting experiences of my life (they said very nice things about my performance, which also makes me immensely happy).
I became aware of them when I was still living in Ecuador, 2 or 3 years after I got interested in magic. Since then, I have obsessed over their work. They have been a major influence in my work as a performer.
You're younger than most, a South American immigrant, and have a distinctive hairstyle. Otherwise, how do you think you differ from the majority of working magicians today?
I've been told that my approach to performance, specially to close-up magic and to the interaction with the audience-participants, is unique. I laugh, yell and get very excited when I perform. I'm not faking it, it's not a theatrical device or a conscious strategy, I genuinely get very excited. Performing makes me very happy. People have mentioned that this resonates with them.
For me, magic is all about co-creating an experience that all of us can share and celebrate together. I'd like to think that's what I bring to the table when I perform.
Give us a sense of what you'll be doing at your run of shows in downtown LA.
See/Saw is an exploration of the art of conjuring with playing cards, and an invitation to have a conversation about the art of magic. It is an intimate experience and a performance of magic, up close.
Magic is an unconventional art form that most people don't experience very often, so we want to give our guests insight into it. I want people to see magic the way I see it. I want them to fall in love.