[contextly_auto_sidebar]
IN some ways, this pairing makes absolutely no sense — a jazz pianist and a bluegrass mandolinist, playing together? But in another, it's nearly inevitable. And, the other night, not just a natural union but often a spectacular one.
Brad Mehldau and Chris Thile are not just universally well-regarded musicians but also virtually parallel figures. Both are (still) reasonably young players who are simultaneously innovators and traditionalists, and both have drawn acclaim for playing music outside the traditional repertoire of their instruments. For Mehldau, it's Radiohead and expansive versions of Beatles tunes, for Thile, it's rendering everything from Bach to the blues to Bill Monroe to postmodern everything on the humble mando.
Finally, and especially relevant to the new project: Both musicians are in a historical sense on the edge of their respective instruments. That is, Mehldau is a white man playing an instrument whose development has been dominated by Hines, Tatum, Powell, Monk, Tyner, and other black players (and yes, yes, I've heard of Bill Evans) while Thile is a mandolinist from outside the South. (He grew up near San Diego, mostly, and now lives in Portland.) But they play their instruments with little irony or distance, and are able to get "inside" the tradition in ways that a lot of avant-players can't. (Ie. witness Mehldau's recent — and devastating — Blues and Ballads LP.)
It may be worth noting, too, that both musicians have well-documented relationships to depression and heartache — they maybe fairly young, and quite celebrated, but they've both been through a lot. They're also, and perhaps this is counter-intuitive, at ease in front of audiences, in Thile's case enough that he was selected to take over Prairie Home Companion. (My interview w him on the subject here.)
This is a long way of saying, Friday's sho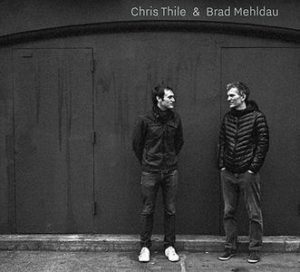 w, put on by UCLA's Center for the Art of Performance in the first of its beachheads in downtown LA , encapsulated all the tensions and contradiction between the two, but with the impossible-to-describe quality of brilliance along for the ride. Both are flashy soloists but have long record of working in groups, and that sense of empathy was very clear Friday night.
They drew heavily on their Nonesuch LP — the jazz standard I Cover the Waterfront, a Gaelic number by an Irish harpist, Dylan's Don't Think Twice It's Alright, and a few songs with LA roots, Fiona Apple's Fast as You Can, Elliott Smith's Independence Day. The level of improvisation — one of the hardest things to put into words — was simply beyond description.
(Let me pause to add, a bit darkly, that Smith's songs have become even more luminous and distinctive — they are immediately recognizable by a riff or a chord progression — since his 2003 death, and they seem to have been taken up by a wide range of players.)
The encore, the Gillian Welch/ David Rawlings number Scarlet Town, from the duo's last studio record, brought out especially fascinating lines from Mehldau.
Given the strength of the two lead voices — the piano and mandolin — the third, Thile's voice, is not quite an equal partner. Part of me craved a cameo by a Bessie Smith-style blues singer or a Joe Henderson-type tenor saxophonist to give a song or two some added thrust.
Thile's singing is fine, but not much better, and while it put me off the LP a bit, in concert it fit in perfectly: As vocalist, he is not a virtuoso, as he is a a string player, but a storyteller trying humbly to put these songs across.
I'll return to the album with new ears, as the precursor to a magical evening.