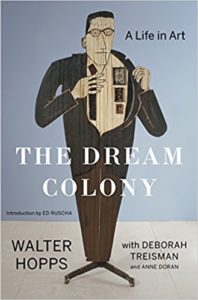 [contextly_auto_sidebar]
FOR Angelenos in the visual arts world, Walter Hopps (1932-2005) was an almost godlike figure — an eccentric, disorganized, perpetually tardy pill-popping genius who both discovered young artists and found ways to frame established figures that made them seem new.
Hopps — best known in these parts as a founder of the legendary Ferus Gallery in the late '50s and curator of the Pasadena Museum of Art in the early '60s — went on to an impressive career elsewhere after he left California. The whole story is told, in Hopps' words, in his memoir The Dream Colony. It's far better than I had any reason to expect. His family roots and early life sound like the kind of story Bob Dylan might have made up for himself.
The curator's tale is told thanks to The New Yorker's fiction editor, Deborah Treisman, who edited Hopps' taped conversation. I spoke to Treisman — who appears tonight at the Getty Center — for the Los Angeles Review of Books, here.