[contextly_auto_sidebar]
FOR reasons I can't entirely figure out or explain, continental Europeans have not had much luck with rock music, not matter how you define the term. (And no, the Scorpions are not excepted.) Why the average blues band from Birmingham or Belfast can typically do better than the finest combo in Rome or Frankfurt is a mystery I may never understand. The Swedes started to break the rule a decade or so ago, but there is simply no one among European rock bands to compare to Air, as they demonstrated at a career-retrospective show at LA's Greek Theatre the other night that was simultaneously low-key and triumphant.
Twenty years ago, when I moved to Los Angeles, I almost immediately began hearing about a new French electronica band from my music and journalism friends. The as-yet-album and its singles started to seep through my world, much like the movie LA Confidential. By the spring of 1998, a few months after Moon Safari came out, Air seemed to be everywhere: On the radio, at parties, at the cooler cafes. I remember h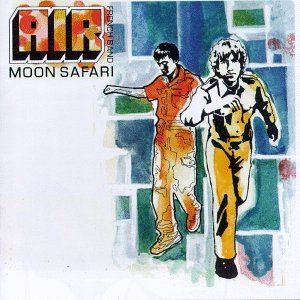 aving a beer at a Los Feliz bar with a girl I fancied, and the entirety of Moon Safari played on the jukebox that afternoon. Their mix of mellow keyboards,  gentle female vocals, Euro kitsch, and something that sounded like Gallic irony was fresh and real, and electronica groups like Zero 7, Thievery Corporation, Sia and other masters of downtempo would soon borrow a bit of the group's groovy cool. (Not everybody got it: I played Moon Safari for an older friend on a visit back East: "This sounds like an Italian porn soundtrack!" he exclaimed.)
New albums, including a score for Sofia Coppola's Virgin Suicides, appeared, and Air never really ventured too far from Moon Safari's melange. For a lot of us, the French group that turned us on around the turn of the 21st century seemed to recede into memory? Had those guys gone back into architecture? Were they doing European movies now or something? (The duo's latest LP is the retrospective Twentyears.)
This is all to say that their Greek show reminded me — and, judging from the response of the crowd — how perfect the band's original combination had been. With Air's two members out front and supporting musicians in shadows behind, the group paid homage to its two decades, with an emphasis on classic songs like Kelly Watch the Stars, La femme d'Argent, and Sexy Boy. Beck even came out to sing harmony in a number. A light show gave it an even deeper connection to '70s planetarium culture: Perhaps Air are Gen X's Pink Floyd.
For complex reasons I'd not been to the Greek — the 1929 amphitheater tucked into the edge of Griffith Park — in a few years, and what a lovely place to see a band that place is. There were few surprises the other night, but this was a near-perfect California evening that seemed to bring together Another Green World-era Brian Eno with the Francophone weirdness of Daft Punk. Long may their French flags fly.