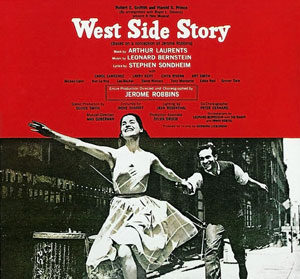 [contextly_auto_sidebar]
This week I offer our latest column from guest Lawrence Christon, a former Los Angeles Times staff writer on theater and comedy, and a longtime culture freelancer in Southern California. This one needs no further ado.
      A GIRL NAMED MARIA
By Lawrence Christon
I'm standing in the deserted home furnishings section of a department
store late at night, shopping for a mattress. It is the dark season,
in more ways than one. The Cheetos-colored Borscht Belt clown with the
funny hair and floppy suit has bullied his way through the long
primary and election run right into The White House, and now, as the
march of the Trumpkins gains volume, the joke is on us.
A young woman in a black business suit approaches.
I know what you may be thinking — a man and a woman alone in a room full
of mattresses — particularly given the conditions for despair that form
the classic background for abandon. But an indiscretion would be
wholly fantastical; the real condition, however, is not: political
free fall. A Democratic party that has abandoned its Rooseveltian
principles. A skewed economy in which the rich get richer and the rest
of us scrap for what's left on the landfill of diminishing returns. A
culture so rife with capitalist values and attendant
corporate-academic jargon that, as mentioned in a recent issue of the
Atlantic, the '60s utopian sentiment of free love has now become, for
eligible women, the search for "an empowered version of uninhibited
sexuality" in a dating scene where "sexual interactions…are explicitly
commercial." And the question arises, "should marriage be downgraded
to a joint custodial arrangement for raising kids?"
Hannah Arendt wondered aloud if the totalitarian horrors of Stalinism
and Nazism, in an echo of Pound's line, "helpless against the
systems," would fundamentally alter human nature in the 20th century.
That alteration was rooted in fear. Now we have one rooted in the
actual invasion of consciousness, by digitized media, by the popular
fusion of politics and entertainment, by every manipulative sound and
image that erupts in ubiquitous screens, big and small, to crowd our
private and communal spaces. The sports screen commandeers our
restaurant conversation. The laugh track attends our pumping gas
outdoors. Continual celebrity updates. News you can use, dumped in
every social media silo we scroll through hourly. Even the chubby
fingers of little kids are swift at working screens. It's inescapable.
I'm standing in the deserted home furnishings section of a department
store late at night, shopping for a mattress. It is the dark season,
in more ways than one. A young woman in a black business suit
approaches. She's the salesgirl, or woman, or person, however it's
phrased in our linguistically fraught time. Her skin is pale, but her
accent suggests Latin America. She's helpful, patient, knowledgeable about
deals that look good but go bad too soon. She's professionally
pleasant.
We settle on a high end but not exorbitant purchase. At the
register we discuss delivery options, bonus points, warranty, return
policy, etc. I press a wrong button, and the lengthy process of
printing out a comically yard-long receipt has to be repeated. She
remains patient, laughing gently over how long this wrap-up is taking.
I observe her at greater length: tall and slender, attractive but not
pretty, with an intelligent, somewhat narrow face. Finally the
transaction is done. I look at the printout and see her name: Maria.
"That's a nice name," I say. "Made forever famous in 'West Side Story.'"
Her face looks blank.
"You've never seen 'West Side Story'?"
"No."
"Surely you've heard the song 'Maria.'"
"No."
I try to sing the first few lines, but the tattered result is hopeless.
"Got a cell phone? Dial up YouTube."
She produces a worn pink-framed mobile device, taps in the trail to
the original 1957 Broadway cast recording. The ardent tenor of Larry
Kert issues thinly from the little phone, but it's enough:
"…"The most beautiful sounds in the world in a single word…Say it loud
and there's music playing/ Say it soft and it's almost like
praying…I'll never stop loving Maria… "
Department store Maria is hooked. She stares at the little screen,
transfixed, unmoving, her lips parted in wonder.
"…Suddenly that name/ will never be the same/ to me…"
As I observe her, the rush of remembering that production comes back
to me. A New York City councilman named Vito Marcantonio had opened
the floodgates of Puerto Rican immigration to the Big Apple in the
late 1940s. Almost overnight a black-and-white city — a European
city — began brightening with Latino colors, music, cuisine and
exuberant street life. Within a decade, "West Side Story" exploded on
the scene. No one had seen anything like it. It changed New York. It
changed the American theater. The film version won Best Picture. The
only show I could afford that year, I couldn't get it out of my bones.
I danced crazily down the street like young unschooled Billy Elliott
leaping and spinning his way to the sea in North Durham.
Maria explains to me that her parents moved her back to rural Mexico
when she was four. She's only been in the U.S. for a few years, hence
her ignorance of American culture and lore.
"I bet you'll be playing that song after I leave," I say.
"I will," she says, in a confessional tone. "Thank you."
I thought of her on the way home, and many times since. A young woman
who's discovered magic in an ordinary name, her name, which will never
be ordinary again but instead will echo with the fervor of young love
and the most beautiful sounds in the world.
Innocence is still possible. Joy is still possible. You just never
know when you'll come across the seemingly unremarkable moment you'll
wind up cherishing for as long as you live.