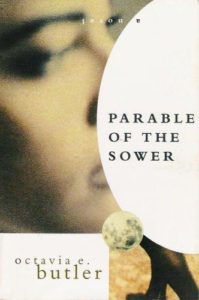 [contextly_auto_sidebar]
THE posthumous rise of the science-fiction writer Octavia Butler, who died in 2006 and spent most of her life in and around Pasadena, CA, has been fascinating to watch. I've been interested in Butler since I moved out here and began to hear of her work, in the late '90s, and love one of her story collections. But I don't know her life of output in great detail.
So I'm looking forward to a tour of her life in Southern California today, put on by the LA arts group Clockshop. All the action — there have been panels and numerous events, some involving great LA scribe Lynell George — is driven by the acquisition of Butler's papers by the Huntington Library.
Butler's Pasadena was very different than that Rose Bowl/ Cal Tech/ Protestant gentry side of the city that's generally better known; she came from sternly religious Southern blacks, and started writing as a kid while her mother cleaned houses for wealthy white people. Butler, as an adult, took menial jobs so she could keep her mind free for writing and thinking.
In any case, will report back; please watch this space.