[contextly_auto_sidebar id="yr02ykA7Q0RDGNfP4OZ9UZcMkpPsr0Ye"]
THIS may seen far afield from a site devoted the arts, but anyone who's read CultureCrash the blog, or the book that inspired it, knows that economics and our values are central to my concerns. They also exert a major force on how culture does and doesn't work. Our economic assumptions give us a sense of what is — and isn't — possible in our society.
So I'm pleased to find this excellent interview — "Neoliberalism poisons everything" — with UC Berkeley political theorist Wendy Brown, whose new book is called "Undoing the Demos: Neoliberalism's Stealth Revolution." The conversation is mostly about the origins and effects of radical market worship, specifically as they apply to high school and higher education. I'll point out the obvious: The dismantling of arts education in U.S. public schools was done in part on neoliberal grounds, and the undercutting of humanities majors at universities uses similar reasoning — that these schools are there to train cogs for the workforce.
I do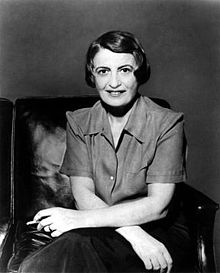 wish Brown had discussed the roots of neolib in Hayek, Ayn Rand (right) and others.
Here's Brown about how it takes over our minds, and every other part of us:
…I argue that there is something else about neoliberalism that we really need to attend to, which is the way it operates as a whole form of reason. By that, I mean that it is an understanding of the world and of the human beings within it as nothing but markets — and an understanding of human beings as fully reducible to market actors. Everything we do and everything we are, we are simply acting as market creatures. This is what is really novel about neoliberalism, because classic economic liberalism understood us as behaving as market actors in markets but then going off and behaving differently in domains of ethics or politics or religion or family life and so on.
Looking forward to seeing this book.