[contextly_auto_sidebar id="81zgKnkFndNWR6ZZyt0SEf1pDSPSHyWh"]
DO musicians and artists need an equitable structure around them, or can they make it by pulling themselves up by their bootstraps? The latter point of view has been promoted — perhaps incessantly — by onetime Dresden Doll Amanda Palmer, a talented musician and canny businesswoman who has become a Horatio Alger hero for the digital age.
Now let me make clear that I have nothing against Ms. Palmer — she is smart, hard-working, inventive, an alum of my alma mater and married to a writer (Neil Gaiman) whose novels I greatly admire. But her I-did-it-myself-and-if-you-can't-you-are-lame point of view is so contradictory and tied up in personal privilege I don't even know where to start. She often discusses — or writes about, or TED talks about — the years of struggling and "asking" it took her to become financially successful. But like many "winners" in today's new economy, she talks less about the fact that she grew up in a wealthy town (the median home price in Lexington, Mass. is about $1.4 million) and had a serious safety net to fall back on. I have a feeling she graduated Wesleyan with far fewer student loans than I (or many who go to fancy schools) left with.
There are all kinds of other thing in her supposedly fool-proof Dale Carnegie-style lesson that aren't persuasive. Among them: Palmer is famous for disrobing during her performances, and for some in her audience this is certainly part of the appeal of going to one of her shows. (She is nude, more or less, on the cover of her book.)
I have nothing against female nudity, onstage or off; we wouldn't have a human race without it. But I'm not sure I want someone preaching the arts version of the prosperity gospel to set out a model by which musicians need to get naked in order to make a living. (Does Palmer — who is nearing 40 and has just announced that she is pregnant, intend this to be part of her business model for years to come? I certainly don't hold it against her if it is, but is this really what it takes to make it in the 21st c?)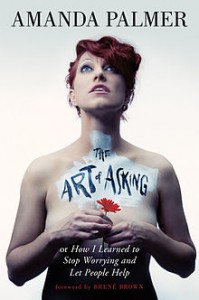 This post gets at the way at least some of Palmer's maverick myth may be at least partly BS: That she has been lying or at least shading the truth in her valiant rugged-individualist struggles with her record label. (Shades of fellow Bay Stater, former Sen. Scott Brown.)
As for the larger Horatio Alger stories of which so many American are besotted, this column by the perceptive Michael Hiltzik on the "millionaire next door" scam is worth reading. Hiltzik is talking about "Millionaire" author Thomas J. Stanley's claims about the beauty of the American dream.
But as Helaine Olen points out in the most clear-eyed valedictory to the late Stanley, his book "was already describing a vanishing world when it was published." Fewer young people starting their careers today have had even the middle-class upbringing or family resources of so many of Stanley's quiet millionaires.

That makes a big difference, because it's rarely appreciated that many small businesses start with family investments. Remember Mitt Romney? As a presidential candidate, his advice to young students was: "Take a shot, go for it, take a risk, get the education, borrow money if you have to from your parents, start a business." But what if your parents don't have any money?

Olen reminds us that the Stanley millionaire model was a bit fraudulent from the start. Economist Nassim Nicholas Taleb noticed, in his own book, "Fooled by Randomness," that the picture painted by "The Millionaire Next Door" was the product of survivor bias — "the authors made no attempt to correct their statistics with the fact that they saw only the winners," he wrote. What of the millions of investors who invested in the wrong things or whose paving companies failed? They outnumber the winners by a large margin.
This myth will die very hard.