[contextly_auto_sidebar id="L8uqg7ERM237iPSVXdaL6TdXt2SjQlsL"]
AFTER a while, I get tired of all the jive around certain terms. "Disruption" is one; "empowerment," another. ("Innovate" seems to be headed for corporate sponsorship.)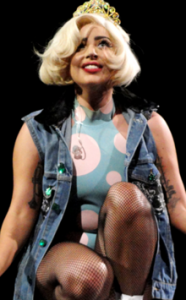 The latest infuriating one is the way the word "subversive" has been turned into a marketing strategy and a straight-faced description of Lady Gaga and Jeff Koons. For my latest Salon story, I dig into how we got here and what the consequences are.
Here's how it kicks off:
The turning point may've come when the P.R. pitch about the "subversive cross stitch" came my way. When you're a journalist long enough, all kinds of ridiculous stuff comes across your desk, like the note I got last year about the family that had chosen to move to Los Angeles "as a brand." (Hmmmn.) But this pitch about "the innovator of edgy needlepoint" made me wonder what subversive even meant these days. At a time when the term is applied to corporate pop stars like Lady Gaga and smug-plutocrat artists like Jeff Koons, subversive has come to mean close to nothing. It's become the Marilyn Manson of critical terminology — somewhere between shock and yawn.
I get into Marcel Duchamp, Charlie Hebdo, and other subjects in the course of this rant.