[contextly_auto_sidebar id="oNW8dK0FCdGFSKqGQqeHclNNxOzhoCM1″]
OKAY, nobody really knows what's coming. But a pretty good stab comes in a new book by veteran arts manager Michael M. Kaiser (Alvin Ailey, Kennedy Center, etc) , who is both hopeful and brutally honest. His opening section on the building of an arts infrastructure (including an audience) in the postwar U.S. is as clear and succinct and explanation as I've ever seen, and his description of what went wrong at the beginning of the 21st is also well focussed.
Here's how I lead off my review of Curtains? The Future of the Arts in America :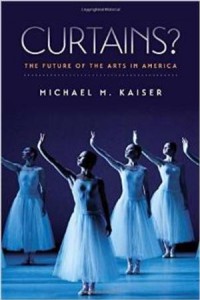 Crisp, pragmatic and genial, Michael M. Kaiser smiles earnestly from the jacket photo of his new book, the latest in a series on how to adapt to the changing landscape of 21st century culture. A longtime arts manager – he's helmed the Kennedy Center, the Alvin Ailey Dance Company, and Britain's Royal Opera House – with a reputation for turning around troubled cultural institutions, this neck-tied gentleman seems likely to regale us with the usual get-with-it-folks pep talk of neoliberal, corporate-model board presidents: Sure, there are "challenges" to today's arts world, but it's nothing "efficiency," "innovation," "knowing your audience," "branding," and other sorts of bootstrapping can't solve. No less than three of his books have "practical" in their subtitles, and the very name of the new book — Curtains? The Future of the Arts in America – seems to shrug off any serious storm clouds.
I've been struck by the mixed feelings arts folk I know seem to have for Kaiser's work — he's been likened (not as a compliment) to both Oprah and Richard Florida.
My review, for ArtsFuse, is here.