[contextly_auto_sidebar id="gK38C6GBzzOfcwaZG1ZznJWnGv9vKRrO"]
VIOLENT, authoritarian and fascist regimes often target artists, musicians, and the arts themselves — this is something we see East and West, ancient and modern. The latest outbreak of what Talking Heads called "Fear of Music" seems to be taking place in the Middle East, where the Islamic State is destroying drums and other musical instruments because they are somehow "un-Islamic."
The site Epic Times has a photo and brief description. (I think the story was broken by the UK's Daily Mail.)
Instrumental music, it appears, is not music to the ears of ISIS. In one of the group's almost daily releases of propaganda imagery, black-clad militants in eastern Libya are shown presiding over the destruction of a number of musical instruments. Saxophones and drums go up in smoke as the group torches them in the open, drumming up fear in the process.
This is — let me be clear — appalling. It's especially weird since some of my favorite musicians are soulful Sufis (see RT, right) or other kinds of Muslim sect. (Ted Gioia's n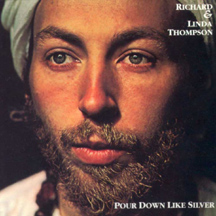 ew book Love Songs looks at how the music of Andalucian Moors shaped the contemporary Western love song.)
But this censorious spirit exists in our own Judeo-Christian and Anglo-American world. Oliver Cromwell's Puritans were violent religious fanatics who smashed the stained glass in churches and tore out the pews where chorale groups sang psalms. (The aesthetic was considered idolatry or "Roman.")
The Nazi's chilled expression with their Degenerate Art show; Stalin nearly destroyed Shostakovich. I'm old enough to (barely) remember the record-burnings of the "disco sucks" movement. American Christian maniacs burned Beatles records after John Lennon's Beatles-are-bigger-than-Jesus remark.
These were all reasonably brief movements. But one lasted significantly longer: The early Christian war on secular music, which lasted for hundreds of years. I spend a lot of time digging into this for my book — it's an almost literary example of "the killing of the creative class" — though very little made it into the final Culture Crash. Here's a bit of it, though:
Jupiter-worshipping imperial Rome was often suspicious of artists, but the early Christians could be downright hostile. As Christ's following spread from a small cult in the Levant into the Roman mainstream – becoming the official religion in the 4th century – its value system and roots in the very different Hebrew culture, created a tension with Roman's public spirit.

Clement of Alexandria, in the late 2nd century, warned of the "indecency and rudeness" that musical instruments deliver, and condemned the man who "rages about with the instruments of an insane cult. We completely forbid the use of these instruments at our temperate banquet." And it wasn't just public performances of music that upset the early Christians: Because music often accompanied pagan sacrifice and religion, those performing music at home were suspected of worshipping idols.

Saint Jerome, the Roman Christian priest, made no secret of his attitudes in his writing. "Drive out the singer like a criminal," he wrote in one of his epistles. "Cast from your house all women lyricists and harpists, the devil's choir whose songs are the deadly ones of sirens." His attitude toward writers shows how far things had come from the Golden Age: "The songs of the poets," he wrote, "are the food of demons."

Much of the creative class, then, began to be exiled from respectable society as Christianity takes over the Roman empire in the fourth century. "Whoever performs in a theater or is a wrestler or a runner, or a music teacher or a comic actor," reads a canon of Hippolytus, "or who teaches savagery or a priest of the idols – none of these may be permitted to attend a sermon until they have been purified from these unclean works. After forty days they hear a sermon. When they prove themselves worthy they will be baptised." Dancers, actors, and especially a "woman who dances in taverns and allures people by her beautiful singing and her deceitful melody" – as the Canons of Basil put it – didn't fare much better.

… For hundreds of years – until the 12th century – Christian fathers forbade the use of every instrument but the church organ. Other instruments – especially the lyre and pipes – were associated with the very paganism that the Catholic leadership was trying to stamp out. For much of the Middle Ages, all secular music was forbidden.
Are all these repressive Christians — like the rocker disco-sucks crowd — as bad as ISIS? Of course not. Do our Western bad deeds excuse theirs? No, again.
But let's remember that the anti-aesthetic impulse is not unique to Middle Eastern fanatics: We've experienced — and perpetrated — it too.
UPDATE: Now these dipshit fanatics are burning books and sacred manuscripts, here.